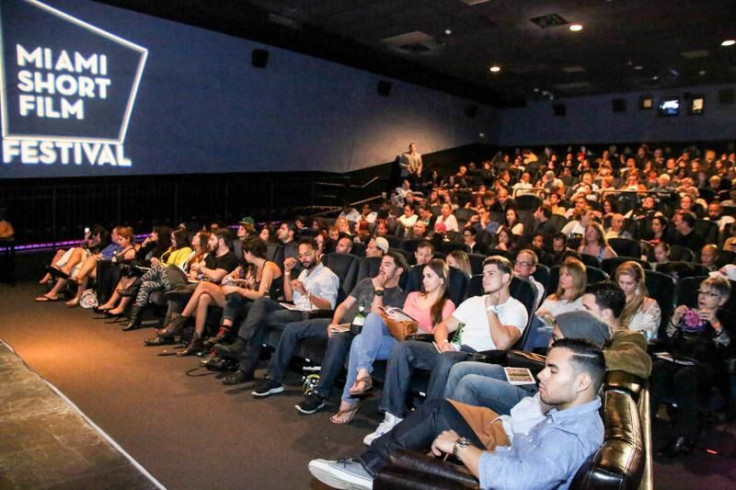 In its 14th year, the Miami short Film Festival (MsFF) is showcasing 55 short films in a range of categories from filmmakers in Miami and around the world at Cinépolis Coconut Grove and Miami Beach Cinemathéque (MBC), Nov. 2 through Nov. 7. For the first time in the Film Festival's history, you can sample a selection of short films from prior festivals through the MsFF's "Miami Time" online and mobile offering.
Using the tag "You got the time; We got the shorts," the "Miami Time" campaign is an innovative, tongue-in-cheek approach to promoting MsFF by providing entertainment to people who may be waiting for friends, family or others who are on "Miami Time" (running late, in other words). While waiting, people can visit the site and choose from shorts that are 5 minutes, 10 minutes, 15 minutes and 20 minutes long, depending on how much time they have to kill.
"Film festivals are often the only way that audiences can access these extraordinary shorts and get to know the creative talents behind them," said Actor/Producer/Director and Founder of the MsFF William Vela. "So, we're excited to give audiences even more access and an introductory experience of the film festival by sharing some of our favorite shorts from prior festivals online in addition to this year's excellent entries they can see in person during the festival."
Selected from more than 850 submissions from around the world, the films presented at MsFF represent a full range of human experience in Documentary, Experimental, Narrative (fiction), Animation, Music Video, Environmental, Webisode and Cell short categories. Among the selected films are six local productions that will be showcased Nov. 3 at Cinépolis.
"MsFF introduces people to these incredible filmmakers that they might not get to know otherwise. We hope that the captivating and innovative films we've selected for this year's MsFF will engage and enlighten while helping to build the audience for shorts," said Vela, who founded MsFF to showcase Miami as a leader in contemporary short filmmaking. "South Florida's only short film festival is a really fun and important cultural event that contributes to the arts, economy and education of Miami-Dade County."
In addition to the film screenings, the festival features Q&A's with filmmakers and cast members, opening and closing celebrations and a red carpet premiere on Monday, November 2nd at Cinépolis, Coconut Grove.
Each evening the festival presents films grouped into select themes:
Nov. 2:
Dilemmatopia (Cinépolis) explores "the complexities behind our flickering moral compass, the pain of isolation, and the overarching idea that we are the sole masters of ourselves" with seven shorts.
The Rise of Demise (MBC) presents seven films that "portray the personal downfalls of many, but what makes these narratives truly remarkable is how they get back up."
Nov. 3:
Think Globally, Act Locally (Cinépolis) offers six films by local filmmakers that "visually demonstrate the South Florida aesthetic while also capturing the values, humor, and realities of residing here."
Secrets, Secrets Aren't Fun (MBC) features six films that "address the personal decisions of the dishonest."
Nov. 4:
The Standardized Test (Cinépolis) offers nine "politically accented films that challenge you to dip, duck, dive, dodge, and defy the conventional ideas that drive the standardization of humans everywhere."
Behind Every Good Man, There's an Even Better Woman (MBC) features eight shorts that "recognize women as the powerhouses, nurturers, and masterminds behind a grander scheme of events."
Nov. 5:
Americanistas (Cinépolis) includes nine films that "truly embody what it's like to be a contemporary American in today's day and age."
All the Good Ones Are Gay! (MBC) offers eight shorts that "personify the stark realities and accomplishments of the unrelenting LGBTQ community…successfully portraying the many identities and personal experiences of LGBTQ persons through candid, cinematic language."
Nov. 6:
A Simple Twist of Fate (Cinépolis) presents seven films "brimming with curveballs guaranteed to leave your fingernails in bad shape."
Running in the Family (MCB) includes shorts focused on "familial adventures that are guaranteed to lift your spirits and allow you to recall what it was like having an 11 o'clock curfew and casseroles for dinner."
Nov. 7:
Objects May Be Closer Than They Appear (Cinépolis) features eight "candidly told stories of fear, doubt, and personal insecurity unfolding into triumphs of self-actualization."
Wild Card (Cinépolis) and Everything but the Kitchen Sink (MBC) are smorgasbords "of genres that truly capture the essence of fundamental short film and all of its raw majesty. Cinematographically superb, yet thematically deviant, these films have nothing in common aside from outstanding direction and highly enticing plot points."
Tickets for the film festival are $15, with 20 percent off for seniors, students and MsFF members.
The 14th Annual Miami short Film Festival is sponsored by: Stella Artois, car2go, WeTransfer, Miami-Dade County Department of Cultural Affairs, City of Miami Beach, The Children's Trust, Árbol Communications, Cut Right Communications, Albán Communications, Coconut Grove BID, Coco Walk, Coconut Grove Chamber of Commerce, Coconut Grove Art Festival, Landa & Associates, Guaoo Printing, BL Brand house, Apollo Payroll, Regus, University of Miami/School of Communication, Miami Beach Cinematheque, Cinépolis Theaters, Filmfestivals.com, Without a Box, MAG Production, Fabulous Miami, Short Film Central, WLRN, FILMIAMI.org, Tropicult, Coconut Grove Grapevine, The Mayfair Hotel and Spa.
© 2023 Latin Times. All rights reserved. Do not reproduce without permission.