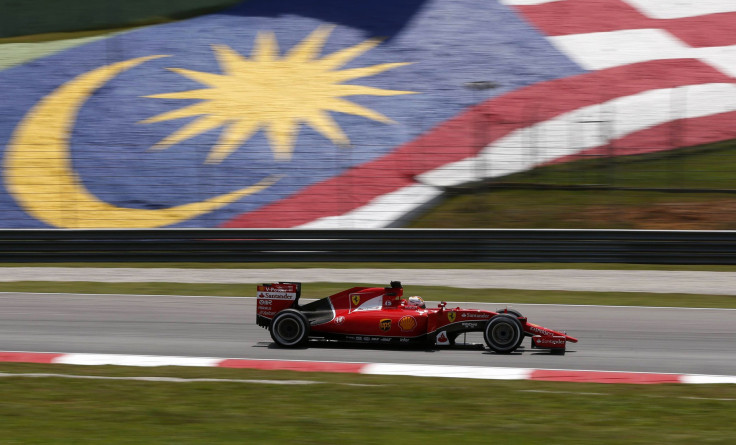 The 2015 Malaysian Grand Prix will be hold on Sunday, March 29, at 3:30 a.m. ET. The Sepang GP will be shown on NBC Sports this Sunday morning but for race fans that will are unable to watch it on TV at the time, be sure to watch the race via live stream online by signing up for NBC Sports LiveExtra here.
It's another Grand Prix and it's another Mercedes that grabbed pole position after Saturday qualifying. Lewis Hamilton wrestled his Mercedes during a very wet Q3 session to record the fastest time at 1:49.834s. However, it is more interesting to discuss who took second: Sebastian Vettel in the Ferrari posed a real threat against the Mercedes and his 1:49.908s must managed to split the two Silver Arrows. Both Sebastian Vettel and Scuderia Ferrari had just come off of a rather lackluster 2014 season as neither of the former world champions managed to score a single race win last year.
"I think it was an interesting qualifying session," remarked Vettel on the Q3 that followed the massive rain storm unleashed over Losail circuit mid-way through Q2. "The car felt good in both dry and wet conditions also at the end. I'm reasonably happy. Also the long-runs I think looked good in the practice, so we should be in good shape.
"But we know that they are difficult to beat. Ultimately, that's why everyone turns up: trying to win. We'll see what we can do tomorrow. It looks like we're a little bit closer here, but we'll have to wait and see I guess."
For Ferrari, this is the first front row start since Malaysia 2013. For Mercedes, it is the first time since Hungary 2014 that the Mercedes drivers did not control the front row of the grid. Nico Rosberg struggled in the wet conditions and unfortunately ruined his final lap the moment he ran wide at T1. Rosberg's fastest lap was a 1:50.299s, more than three tenths off his teammate.
"I just didn't drive well enough; I'm annoyed by that," admitted Rosberg. "Third place is not good enough."
Red Bull driver Daniel Ricciardo was the winner at Malaysia Grand Prix last year and he will start at fourth position, just ahead of his teammate Daniil Kvyat in fifth. The Red Bull struggled at Australia, but it seems like reverting the settings back to testing parameters managed to improve the pace a little bit. Meanwhile, rookie Max Verstappen demonstrated his talent in the wet by bringing his Toro Rosso to sixth on the grid, just ahead of the formidable Williams driven by Felipe Massa. It seems like for all the pace the Williams team displays in the dry, the cars become difficult in the wet. Finally, Romain Grosjean will start eighth, Valtteri Bottas will start ninth after returning from his back injury, and Marcus Ericsson will round out the Top 10 places.
Despite Sebastian Vettel's massive performance in Q3, Ferrari teammate Kimi Rakkonen will start at 11th on Sunday. Qualifying strategy got the best of Kimi this time as a competitive Q2 made a turn for the worst when rainy conditions caught him off guard. Kimi found himself behind a slower Marcus Ericsson when he tried to round the final corner of the final hot lap before the rainfall halted Q2.
"It doesn't help to blame anyone, it is what it is," said Kimi. "It is easier to say afterwards that we should have been waiting behind each other but the end result is this and whatever we do now doesn't change it. It is unfortunate."

"We will see what happens in the race, but it was wrong time, simple as that," he said. "I tried to overtake Marcus because he was in front of me and I couldn't slow down because there were people pushing me forward."
Finally, what of the McLaren team? Jenson Button found himself 2.4 seconds off the pace of the Mercedes, ultimately dropping out of contention in Q1. Meanwhile, Fernando Alonso, who finally returns to an F1 car after the peculiar accident during Barcelona testing, only managed to qualify a tenth behind his teammate.
"Obviously after Australia we knew more or less where we are and actually we are much better than what we thought before coming here in Malaysia," said Alonso. "But it is the way it is.
"We are underperforming a lot and we need to improve, but definitely the steps we are making in the car show a lot of progress. So I am optimistic that I will not be speaking here after Q1 for long."
"It was a long way off the pace in Australia, around 4.5 seconds, and here was 2.5/3 seconds. The step forward is massive. We are moving in the right direction."
"There is a massive step forward in performance," added McLaren teammate Jenson Button. "We haven't been able to challenge the other cars in qualifying but it is a lot closer than Australia and I think the race pace is better than our qualifying pace.
"It is an improvement so we should be happy with the step, but we know there is a long way to go still."
The 2015 Malaysian Grand Prix will be hold on Sunday, March 29, at 3:30 a.m. ET. The Sepang GP will be shown on NBC Sports this Sunday morning but for race fans that will are unable to watch it on TV at the time, be sure to watch the race via live stream online by signing up for NBC Sports LiveExtra here.
1. Lewis Hamilton GBR Mercedes-Mercedes 1m 49.834s
2. Sebastian Vettel GER Ferrari-Ferrari 1m 49.908s
3. Nico Rosberg GER Mercedes-Mercedes 1m 50.299s
4. Daniel Ricciardo AUS Red Bull-Renault 1m 51.541s
5. Daniil Kvyat RUS Red Bull-Renault 1m 51.951s
6. Max Verstappen NED Toro Rosso-Renault 1m 51.981s
7. Felipe Massa BRZ Williams-Mercedes 1m 52.473s
8. Romain Grosjean FRA Lotus-Mercedes 1m 52.981s*
9. Valtteri Bottas FIN Williams-Mercedes 1m 53.179s
10. Marcus Ericsson SWE Sauber-Ferrari 1m 53.261s

11. Kimi Raikkonen FIN Ferrari-Ferrari 1m 42.173s
12. Pastor Maldonado VEN Lotus-Mercedes 1m 42.198s
13. Nico Hulkenberg GER Force India-Mercedes 1m 43.023s
14. Sergio Perez MEX Force India-Mercedes 1m 43.469s
15. Carlos Sainz Jr ESP Toro Rosso-Renault 1m 43.701s

16. Felipe Nasr BRZ Sauber-Ferrari 1m 41.308s
17. Jenson Button GBR McLaren-Honda 1m 41.636s
18. Fernando Alonso ESP McLaren-Honda 1m 41.746s

Dnq. Roberto Merhi ESP Manor Marussia-Ferrari 1m 46.677s**
Dnq. Will Stevens GBR Manor Marussia-Ferrari no time**
© 2023 Latin Times. All rights reserved. Do not reproduce without permission.