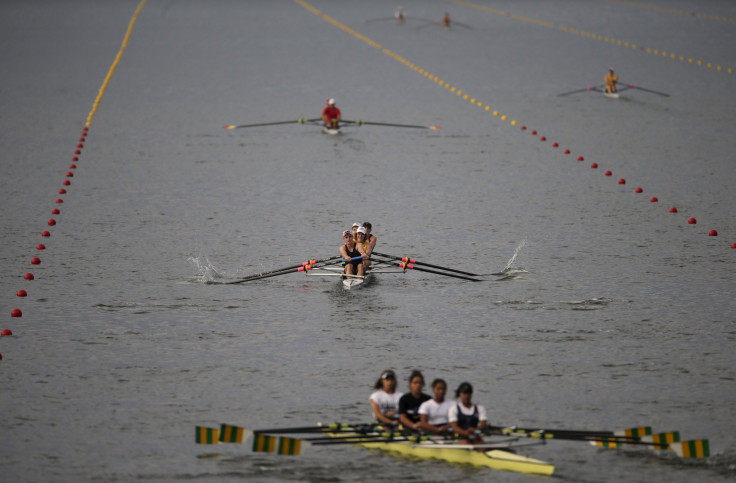 Organizers of the 2016 Olympics shared a photo a few months ago of their mascot Vinicius riding the cable car above Rio de Janeiro's iconic bornhardt, the Pão de Açúcar. Emblazoned on his car was the hashtag "500 dias" -- 500 days until the games' opening ceremony. Why isn't Vinicius tempted by the beautiful beaches below? From up high, you can see them: Copacabana, Botafogo, and the Atlantic inlet that leads to Guanabara Bay. Rio de Janeiro flourishes on the surface: beautiful tan people walking along pristine looking beaches.
Officials have said that they are scrambling to take care of what people can't see: fecal matter and other toxic runoff that threaten everyone from olympic athletes to fisherman. Athletes training in the Bay say debris invisible from the shore is slamming up against boats, a random disadvantage that could influence competitions. Worst than just hosting the event, Rio has really compromised on it's environmental legacy.
"Practically all of the rivers are dead, due to the sewage," biologist Mario Moscatelli told BBC News earlier in 2015 they flew over deltas around Rio de Janeiro. Rio's central Guanabara Bay is scheduled host events like sailing. The water, still unsafe, isn't anywhere near clean, with just over a year before the games begin. As I mentioned in an article for Alternet last year, pollution in Guanabara Bay has been a known issue, causing concern for athletes training ahead of the 2016 games. Now, it's looking like the ahtletes are condemned to fight it out. A recent AP report found that the current levels of viruses in the water/sewage, millions of times the levels accepted, for example, in California. The outlet also reports that viral infections are already common among athletes, who are training in Rio's venues.
Already in 2014, Olympic sailor Allan Nørregaard had told the AP that members of his team had red dots all over their bodies after a practice session in Guanabara. At the 500 day mark, officials were still falling short, admitting that they'll not achieve their promise to cut pollution by 80 percent. One scientists told the BBC that some pollutants have actually increased.
"Nearly 1,400 of them will come into contact with waters contaminated by rampant sewage pollution as they sail in the Guanabara Bay; swim off of Copacabana Beach; and canoe and row on the brackish waters of the Rodrigo de Freitas Lake. Starting next week, hundreds of athletes will take to the waters in Olympic trial events," the AP reported.
Why isn't Rio's mascot going towards the water? Vinicius, the genius, is trying to get as far from the water as he can.
This article was updated to include the AP report.
© 2023 Latin Times. All rights reserved. Do not reproduce without permission.