Four suspects have been shot to death by Haitian security personnel involved in the assassination of President Jovenel Moise in his home, chief of police Leon Charles said. Two other suspects had been apprehended in Pelerin.
Three police officers who had been taken hostage have been released, according to the police chief.
"The police are still in combat with the assailants," Charles told the media. "We blocked them en route as they left the scene of the crime. Since then, we have been battling with them."
Authorities didn't name any of the suspects or provide any evidence tying them to the crime.
Prime Minister Claude Joseph called for an international inquiry into the killing of the president, citing elections will be delayed later this year. "We need every single one to move the country forward," Joseph told The Associated Press.
Joseph stated that he and local officials declared a "state of siege" and presented himself as the head of the government.
Meanwhile, Haitian U.S. ambassador Bocchit Edmond said the assassination was done by "foreign mercenaries" impersonating as agents of the U.S. Drug Enforcement Administration. According to the US Embassy, the DEA operates an office in the Haitian capital to help the government with anti-narcotics activities.
The highly armed assailants spoke Spanish or English, reports claimed.
In an interview with The Guardian, Edmond said it "was a well-orchestrated commando attack."
"They presented themselves as DEA agents, telling people they had come as part of a DEA operation," the ambassador said.
On footage circulating on social media, a man with an American accent is heard speaking in English over a loudspeaker. "DEA operation. Everybody, stand down. DEA operation. Everybody back up, stand down."
Gunshots were heard and individuals clad in black were seen racing across the neighborhood, according to residents.
The city of Port-au-Prince has been experiencing an uptick in violence as gangs struggle with authorities for control of the streets.
A rise in poverty and political instability exacerbated the bloodshed.
Martine, Moise's wife, was in a serious but stable condition and was being brought to Miami for medical care.
Haiti has requested assistance from the United States in the case, and for a lookout of the killers that might have fled by land or water to the Dominican Republic. The assassination of Moise shook the Caribbean country.
Moise's presidency was characterized by a rise in political unrest, charges of corruption, and a long-running disagreement about when his term should conclude.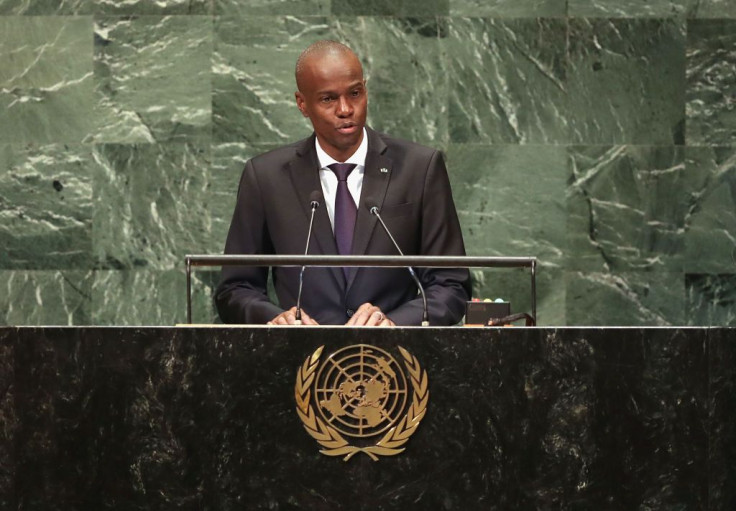 © 2023 Latin Times. All rights reserved. Do not reproduce without permission.