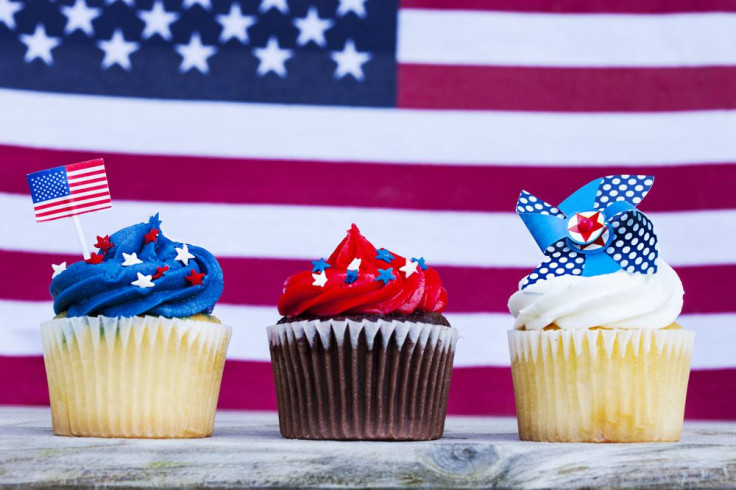 Fourth of July, just like every other American holiday, brings the perfect excuse to indulge in our favorite food, drinks, snacks and, of course, SWEETS!
And since all diets are off during the holidays, we could not pass up the opportunity to compile the ultimate sweets list for this weekend.
We gathered up desserts that are guaranteed to satisfy every sweet craving at your holiday party. Pick one, or pick them all. Your guest will certainly thank you. Happy 4th of July! Enjoy!
1) Crispy-Treat Cheesecake Bars: Sweeten your Fourth of July with these crunchy-creamy bars. The cheesecake layer is the perfect ying to the yang of the crackly rice cereal. Make the bars a day ahead, then cut and top with berries before serving.
To see directions go to foodnetwork.com.
2) Red, White and Blue Layered Flag Cake: Celebrate Independence Day with a show-stopper cake!
To read directions go to bettycrocker.com.
3) All American Triffle: This is a creamy, fruity, heavenly dessert. It is like a super-charged strawberry shortcake!
If you want to know how to make this delicious treat go to allrecipes.com.
4) Red, White and Blue Berry Pie: What's more American than pie? This colorful pie is the epitome of summer. Bright blueberries and raspberries sandwich a cream cheese layer in the pie that is quite festive. Perfect for any Fourth of July party.
Go to tasteofhome.com to see full recipe.
5) Flag Cupcakes: These cupcakes are beautiful inside and out, beware of their swirly gorgeousness once you take a bite!
If you want to impress your guests with these colorful sweet treat go to bakedbree.com.
6) Jello Pudding Pops: If you want to keep your guests cool in this crazy summer heat, we recommend these fun and delicious pops. Your friends will be begging you for this recipe.
Which you can find on number-2-pencil.com.
7) Red, White and Blue Vegan Smoothies: Because we all have friends who are jumping on the vegan wagon, it would be thoughtful of you to have a vegan option for them, and these are pretty easy to make.
Go to earthyfeast.com to get the recipe.
8) Tie Dyed Fudge: If you want something fun and simple to make with your kids, try this recipe. Your family and friends will love them!
Go to tasteandtellblog.com to find how to make them.
9) Patriotic Strawberries: If you already have your hands full, this treat might be your best bet. It is cheap, sweet and simple! You can even have your kids do this, while you take care of everything else.
See how easy it is to make them on thesisterscafe.com.
10) Cake Pops: Because sometimes all we need is a small bite to satisfy that sweet tooth of ours. Feel free to pick your own design, you can have them in red, white, and blue, or build a flag with them, or just throw some colorful sprinkles on them. We are sure everyone will enjoy these delicious treats no matter what they look like.
Get the full recipe at allaroundthemulberrybushblog.com.
© 2023 Latin Times. All rights reserved. Do not reproduce without permission.