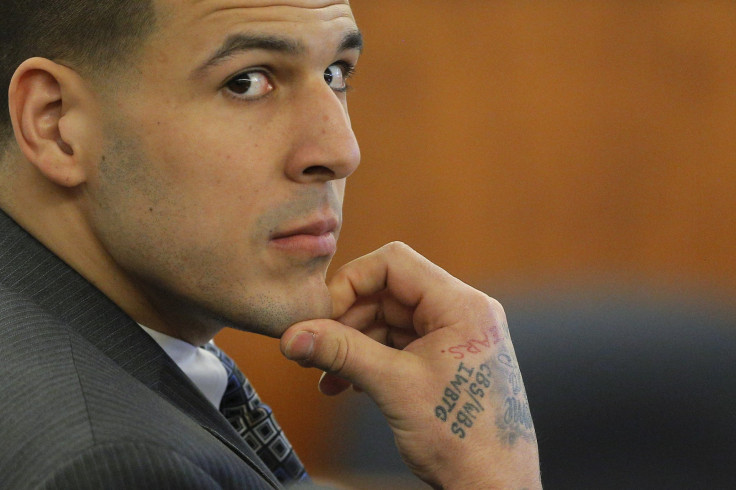 The prosecution in the high profile Aaron Hernandez murder trial is expected to call its last witness on Thursday before resting their case against the former New England Patriots tight end. Hernandez plead not guilty to the June 17th, 2013 murder of Odin Lloyd, the boyfriend of Hernandez fiancée's sister. Thus far, the prosecution has called Hernandez's former friend and drug dealer, Alexander Bradley, Patriots owner Robert Kraft, and Lloyd's girlfriend, Shayanna Jenkins, to the stand.
In all, the prosecution has called more than 100 witnesses to testimony, but the latter have been the most high profile, and potentially the key witnesses that could have the former football star exonerated. On Monday, Jenkins took the stand and admitted that Hernandez had instructed her to remove a mysterious box from their home the day after the murder.
Jenkins testified that she disposed of the box into a "random dumpster," and did not remember where it was. The prosecution was hoping to prove that the murder weapon was in that box, but when asked what she thought was in the box, Jenkins stated that the box had a "skunky smell," and she told the jury that she thought it contained marijuana that Hernandez did not want found by police because he was afraid it could get him suspended by the NFL.
On Tuesday, New England Patriots owner Robert Kraft took the stand and testified that two days after the killing, he ran into Hernandez in the weight room of Gillette Stadium and asked him if he was involved. "He said he was not involved," Kraft told the prosecution.
Hernandez's cry of innocence to his boss is consistent with his plea since he was arrested, however, potentially damaging is the fact that he told Kraft that he was "in a club" at the hour that Lloyd was killed. The prosecution has video evidence that shows Hernandez in his home hours before the killing, and walking around holding a black object that appeared to be a gun ten minutes after Lloyd's estimated time of death.
On Wednesday, Bradley, a former friend and drug dealer of Hernandez told the jury that he was shot in the face by Hernandez in Florida. He admitted that he supplied Hernandez with four to five ounces of marijuana a week and that he would hang out in his North Attleborough home on numerous occasions. Bradley testified that Hernandez was "unreasonably suspicious," and believed he was being watched by police.
Ironically, Bradley talked about a February 2013 shooting in which he was shot between the eyes after getting into an argument with Hernandez at a strip club and said he was dumped in a nearby industrial area. The story was stricken from the record as the judge ruled that the prosecution was not allowed to ask Bradley questions about the shooting because he is currently tied up in a lawsuit with Hernandez.
Similarly, Lloyd's body was found in an industrial park less than a mile from Hernandez's home with multiple bullet wounds including a fatal shot between the eyes. A marijuana joint was found next to Lloyd's body that contained DNA from both Lloyd and Hernandez.
Hernandez's defense team also argues that Hernandez asked Jenkins to dispose of the box for fear that police would find the marijuana and that he could be suspended by the NFL. They painted Robert Kraft as someone who was nervous, and forgetful on the stand, and that Bradley, a former drug dealer with multiple criminal charges against him was not a credible witness.
The prosecution is expected to rest on Thursday after calling a medical examiner to the stand to testify on the shape of Lloyd's body after being shot multiple times. The prosecution has clearly presented a strong case against Hernandez, but after Jenkins, Kraft and Bradley's testimony, it's possible the holes the defense has poked in addition to Hernandez's fame as a football star could garner him a verdict of "not guilty" as early as next week.
© 2023 Latin Times. All rights reserved. Do not reproduce without permission.