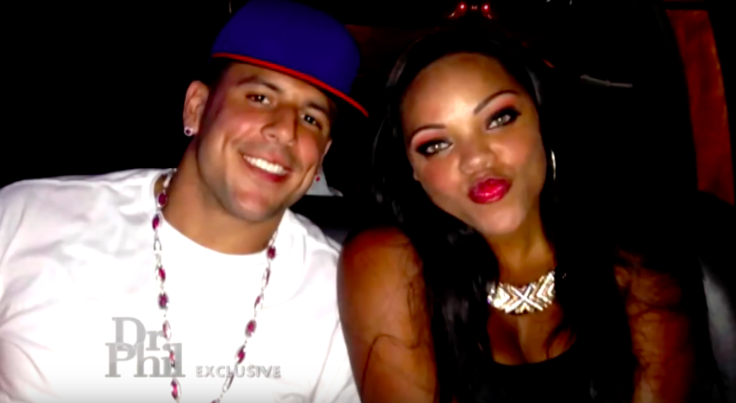 Shayanna Jenkins-Hernandez, fiancee of former NFL star Aaron Hernandez, opens up and speaks out for the very first time in two-part interview with Dr. Phil. Jenkins-Hernandez told host that she didn't initially believe he had died in his prison cell and doesn't think his death was a suicide.
The former New England Patriots tight end was found suspended from a bed sheet attached to a window. Hernandez had written on the forehead the verse of the Bible "John 3:16," confirmed a police officer from the Souza Baranowski prison in Shirley. "For God so loved the world that he gave his one and only Son, that whoever believes in him shall not perish but have eternal life." cites the verse.
Hernandez's fiancee said when she heard the news she though it was a cruel person playing a trick on her, and she called it a "hoax." Jenkins-Hernandez expressed doubts about the investigation, saying the findings didn't seem "believable."
She didn't offer an explanation on his death, and didn't make any comments on if it was or not a suicide. She also added she had no reason to believe anyone would want to kill him. She did an answered question about the legitimacy of a suicide note Hernandez wrote that was addressed to her. "It was addressed to Shay, instead of babe or bae," Jenkins-Hernandez said.
After the death of Aaron Hernandez was confirmed as a suicide by the prosecutor's office in Worcester County, Massachusetts, his family decided to donate his brain to the Boston University Chronic Traumatic Encephalopathy Center. According to a law enforcement authority with direct knowledge of the case, the autopsy showed traces of a drug in a kidney fluid screen. Hernandez tested positive for the use of synthetic marijuana before his death.
Hernandez was found dead in his cell on April 19 at 3:03 a.m., inmates at Souza-Baranowski Correctional Center had told investigators that ex Patriots star may have been high on K2 the morning he killed himself.
© 2023 Latin Times. All rights reserved. Do not reproduce without permission.