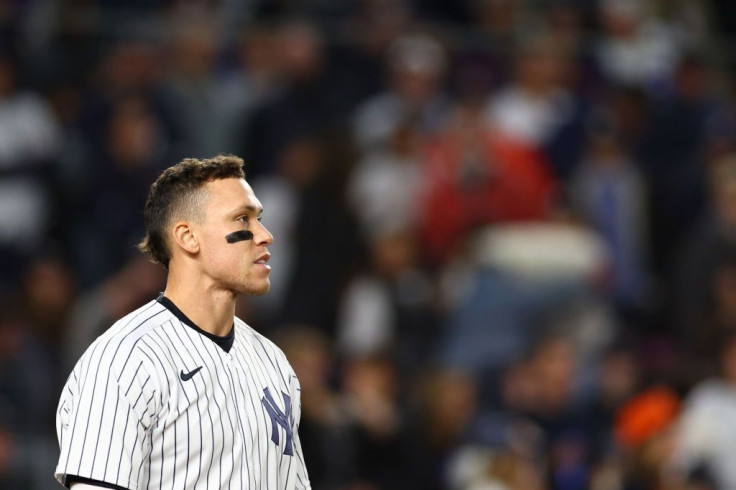 The Yankees and Giants are the main teams in pursuit of signing superstar OF Aaron Judge. Each franchise will have a different sales pitch that Judge could find enticing. However the decision that he makes could be a closer one than previously excepted. According to Jon Morosi, the Yankees and Giants are "very close to 50-50" for Judge to sign with.
Before the start of last season, Judge rejected a seven-year, $213.5 million contract extension from the Yankees. The Bronx Bomber made a bet on himself in the coming year to justifiably earn $300+ million deal with a team in the offseason. What came next was one of the best individual seasons a baseball player has had in the history of the sport. Judge lead the American League in HRs (62), RBIs (131), and had the second best batting average (.311) to take home his first MVP trophy.
Free agency has begun and the Yankees have made their offer for the Silver Slugger. According to ESPN's Jeff Pasan, New York has offered a deal for roughly eight years and $300 million. Pasan notes that the Yankees could increase the deal. Not much is known on San Francisco's end, but Morosi does say if the Giants' offer is around $40 million per year, they have a chance.
San Francisco has been desperately trying to bring Judge back to the west coast; he grew up in Northern California and was a Giants fan as a kid. In order to try to sign the four-time All-Star, San Francisco connected Judge to NBA superstar Stephen Curry's camp to lure him to the Bay Area.
Judge could announce a decision this week.
© 2023 Latin Times. All rights reserved. Do not reproduce without permission.