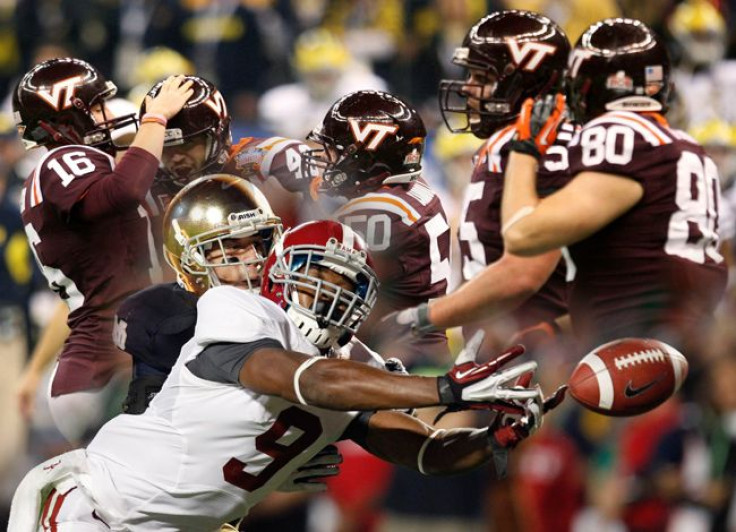 Alabama will be kicking off their 2013 football season with a match against Virginia Tech at the Georgia Dome today. The Alabama Crimson Tide makes its debut this season as the top-ranked team and coming off their third national title in the last fours years. Last year Alabama only lost one game when they played against Texas A&M in a five point loss. The Hokies are coming off a 7-6 season, but are still one of the favorite teams.
A.J. McCarron, Alabama's quarterback, is already an early Heisman Trophy candidate in his senior year. The QB threw 30 touchdowns against three picks and will be aided this year by wide receiver Amari Cooper, Kevin Norwood and Christion Jones. The challenes Alabama faces is keeping a clean slate for a third year championship and a fourth overall in five years with Nick Saban presiding over the team.
On Virginia Tech we have Logan Thomas as the star quarterback. Thomas struggled last year with 27 touchdowns and 16 picks after a great 2011 season where we saw 30 total touchdowns and 10 interceptions. Thea team had some player losses and the only returning receiver is D.J. Coles who caught 36 for 480 yeards. Adapting and becoming comfortable with the players could pose a potential problem.
Alabama is obviously look to start the season strong and fight to keep their title and their number one ranking througout the season. A win over the Hoskies should not be too far fetched as they struggle to cope with all the changes that need to accommodate to. Virginia Tech has never beatean the Crimson Tide in a regular season game and that always has a heavy stigma subconsciously.
Where can you watch this encounter? The game will be broadcasted live on ESPN and on ESPN 3 online starting at 5:30pm EDT. You can watch the game live here and not miss any of the action packed duel. Who do you think will win this match?
© 2023 Latin Times. All rights reserved. Do not reproduce without permission.