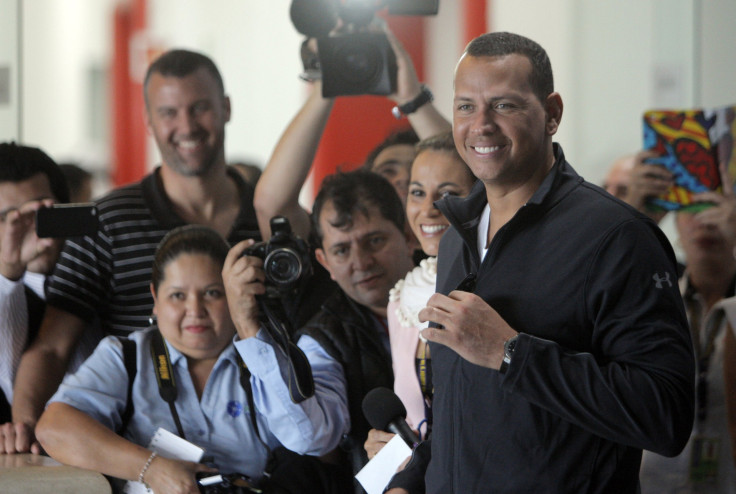 It's been a rough week for Alex Rodriguez. The New York Yankees third baseman is quickly becoming America's most hated athlete after a bevy of stories have been published accounting his PED usage, his lies, and his bullying tactics. On Wednesday, a report by the Associated Press was released that stated Rodriguez admitted to using performance-enhancing drugs while playing for the Yankees.
The report cites Drug Enforcement Agency documents that provide a detailed account of Rodriguez's admission to them in January of this year. According to the report, Rodriguez met with DEA agents on January 29th, 2014 in South Florida. In exchange for immunity from future prosecution, Rodriguez admitted that he used banned substances between 2010 and 2013. Among the banned substances he used were testosterone cream, testosterone gummies and HGH. All of the banned substances Rodriguez admitted came from Anthony Bosch of the biogenesis clinic.
The DEA report directly contradicts Rodriguez's very public denial that he never used banned substances during his time with the Yankees and that he did know or had never met Tony Bosch. Bosch, who is currently cooperating with MLB and the prosecution on the case, did an interview with 60 Minutes in January, and his account of events in dealing with Rodriguez seems to align perfectly with the DEA's report on Rodriguez's testimony.
Earlier this week, another report was released that said Rodriguez had paid his cousin, Yuri Sucart, over a million dollars in exchange for Sucart's silence regarding his PED use. The DEA report also revealed that Rodriguez sent $25,000 to Bosch to try and bribe him for his silence on the issue as well. At this point we know Rodriguez has cheated, not once, but multiple times. Rodriguez has publicly lied not once, but multiple times, and we know that he has bullied and tried to bribe his way to covering it all up.
Despite the latest controversies surrounding Rodriguez, he is still under contract with the New York Yankees for the next three years and to the tune of over $61 million. Rodriguez did not play at all in 2014, as he served a mandatory one year suspension by Major League Baseball. Rodriguez is set to return to the Yankees this spring and it has been reported that he can play either 1B or 3B for the Bronx Bombers. For now, it seems the Yankees are stuck with Rodriguez's contract, but with the court of public opinion quickly turning on Rodriguez, the Yankees could opt to release him making him a free agent.
© 2023 Latin Times. All rights reserved. Do not reproduce without permission.