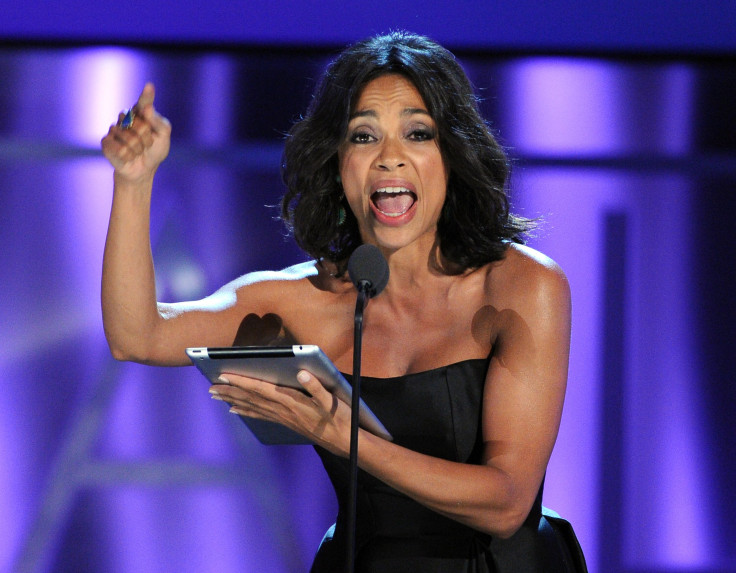 Rosario Dawson was the recipient of the "Outstanding Commitment To Cause And Community" Award at the 2013 ALMA Awards. The "Sin City" actress is a true philanthropist and with the same passion she shows on-screen she has an active advocate within the Latino community. Rosario has supported the Lower East Side Girls Club, Voto Latino and many other causes that have an impact in amongst Latinos, the lives of women and the environment. Dawson was so excited to give her acceptance speech and inspire everyone, but she was cut off by producers after she ran a bit long.
Let's keep in mind that the actress already knew she was going to win the award, so it was no surprise that she was going to be on-stage to accept the honor. Rosario got on-stage and said she was "nervous" before she started to read her speech off of her iPad. She read a couple lines and stumbled through them before excusing herself for being a little emotional due to a picture of a friend that was shown on-screen that had recently passed away. The 34-year-old actress thanked her mother because it was "through her sacrifices and dedication and her love and nurturing that I have become the women I am today." But then the music started playing as her cue that time was running up and said, "oh no, oh no... it's a really good speech I promise" before speeding through the prepared essay she had on her tablet. Dawson continued for about a minute more before being cut off completely by producers and going to a commercial break. Catch the moment down below.
However, earlier in the day it was reported that Rosario was to join Aaron Eckhart in the film "Incarnate" a new horror franchise. According to The Hollywood Reporter, the film is about "an unconventional exorcist with the ability to tap into the subconscious of the possessed who meets his match when a 9-year-old boy is possessed by a demon from his past." No further details were given about Dawon's character, but production is set to take off in November.
RELATED ARTICLES
ALMA Awards Red Carpet Photos: See The Latin Stars Shine At The NCLR 2013 Ceremony
2013 ALMA Awards Preview: When And Where To Watch; Plus 5 Reasons To See NCLR Awards Show [VIDEO]
© 2023 Latin Times. All rights reserved. Do not reproduce without permission.