Alma Muriel passed away on Sunday age 62. The actress was found in her apartment in Playa del Carmen, Quintana Roo, Mexico. The telenovela performer died of an apparent heart attack. Her last television role was on the soap opera "Fuego en la sangre," while she recently also directed "The Little Shop of Horrors" on stage. Once married to Sergio Romo, with whom she had a son, Sergio Jr., Muriel had been in a relationship first with actor Alejandro Camacho, and then with actor Ricardo Cortés with whom she also had a son. She was also married to singer Napoleón.
PHOTOS: REMEMBERING ALMA MURIEL's TELENOVELAS
Alma Muriel's friends in the entertainment industry took to social media to express their sadness at the news. "Rest in peace: one of the greatest actresses in this country. Alma Muriel we will remember you forever," wrote Alejandro Tomassi. Muriel also performed in a number of films: "¿Por qué nací mujer" (1970), "Los corrompidos" (1971), "Mecánica nacional" (1972), "Cuando tejen las arañas" (1977), and her most memorable screen role in Juan Humberto Hermosillo's "Amor libre" (1978).
Known as a "primera actriz," Alma Muriel made a name for herself playing villains in TV melodramas. Her villain on "El extraño retorno de Diana Salazar" is considered one of the top ten villains in the history of telenovelas. See video below. She worked on "Diana Salazar" (1988), "Si Dios me quita la vida" (1995), "Nunca te olvidaré" (1999), and "Destilando amor" (2007) among others.
As actress on a lead role, she worked in Luis Spota's "Las grandes aguas" alongside Gonzalo Vega, produced by Carlos Sotomayor. Alma Muriel was also a stage wonder, and her most iconic role was in Miguel Sabido's "Falsa crónica de Juana La Loca". The play had 700 performances in the late 80s and it was revived in 2004 to a nine-minute standing ovation. The story depicted the story of a mad queen named Juana de Castilla, based on the first real Mexican queen. See image of Muriel in the role below.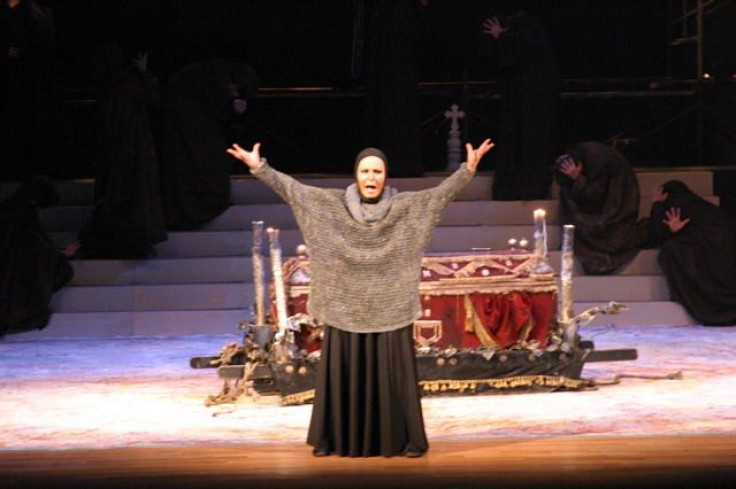 Recently, a group of telenovela fans in Mexico chose the 101 most iconic TV villains of all time. Alma Muriel's Lucrecia Treviño, a witch from the Inquisition in Carlos Olmo's "El Extraño Retorno de Diana Salazar" earned her a spot in the coveted top 5 positions, only topped by Ernesto Alonso, Diana Bracho and María Rubio and their respective iconic telenovela villains. Don't miss the video below.
© 2023 Latin Times. All rights reserved. Do not reproduce without permission.