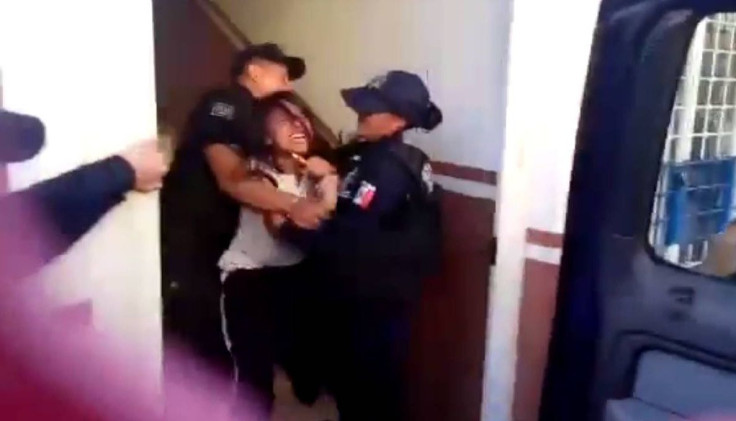 Alondra Luna Núñez Returned To Mexico: DNA Test Proves She Was Not Kidnapped Child Of U.S. Couple [VIDEO]
A video of 14-year-old Alondra Luna Núñez being dragged from her home shocked the Mexican public. Now the teenager has been returned to her home after a one-week ordeal.
Mexican teenager Alondra Luna Núñez was returned to her parents on Tuesday after a weeklong ordeal in which she was forcibly taken to the U.S. It all started when Interpol mistakenly identified her as a kidnapped child. Federal Police literally dragged Núñez out of her school in Guanajuato, Mexico. She was then transferred to U.S. authorities and taken to Texas for a DNA test. Her family released a video recording the incident (see below), which shocked the Mexican public. On Monday, the DNA test showed that she was not related to Dorotea García, the American woman who allegedly identified Alondra as her daughter. In the video, Alondra screams as Federal Police drag her down the stairs of an apartment, and force her into a patrol car.
Once in Texas, Alondra Núñez made her own video, reassuring her parents, family, and friends. In that video, she was calm and cheerful. "As you can see, I'm in the United States of.... of America," she said, as Texas traffic whipped by in the background. She told her parents not to worry, and explained to her friends that if DNA test was negative she'd be back soon. "I'm okay," she said. "The U.S. is neat... I don't understand a word they're saying, because I don't speak English."
The Interpol order was executed after García reportedly identified Alondra Núñez as the girl kidnapped by her father Reynaldo Díaz in 2007, according to a statement from the Mexican Foreign Ministry. It's unclear why the DNA test could not be performed in Mexico, and why the child had to be forcibly removed from Guanajuato. Alondra's aunt reportedly showed authorities her original birth certificate, but says that the police ignored her. The actions executed by Interpol and the Federal Police angered Núñez' real parents, Susana and Gustavo Núñez, who complained that the extraction of their daughter could have been completely avoided.
"They stole my daughter," Susana Núñez said.
Gustavo Luna took to the press citing shortfalls and irregularities in the sequester of his daughter. Even if Ms. García had identified an Alondra, it might have been an entirely different girl. Still, the case was complicated, and more reporting on the case could reveal more details explaining why Interpol filled the demand. For example Mr. Luna reportedly knew Reynaldo Díaz, from when he was an undocumented migrant working in Texas, according to statements he made to Excelsior.
"I only met Dorotea this Friday, I know her husband, we met in Houston. They had problems, and [Mr. Díaz] came to Mexico with his daughter, whose name is Alondra Díaz."
Mr. Luna confirmed that he accompanied Federal Police when they apprehended his daughter, but has yet to comment on the Mexican Attorney General's claim that they "protected the physical, psychological and emotional well being of the girl."
© 2023 Latin Times. All rights reserved. Do not reproduce without permission.