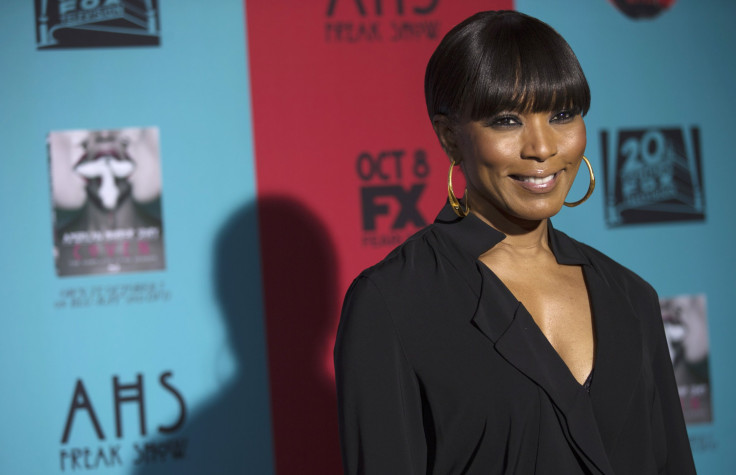 Angela Bassett is back for "American Horror Story." The Golden Globe winning actress, who played the voodoo queen in "AHS: Coven," and the woman with something extra in "Freak Show" just made a reservation for the coming fifth season of the franchise dubbed, "Hotel."
Bassett recently portrayed "Desiree Dupree" and received a Primetime Emmy Award nomination in 2014 for her role as Madam Marie Laveau in "American Horror Story: Coven." She is currently working on two feature films "Survivor" and "London Has Fallen."
Her role has not been revealed for "Hotel" as of yet but she will be joining a few "AHS" veterans as well as some newcomers. Check out these other 10 juicy details about season five of "American Horror Story: Hotel" below:
1. So far the cast includes "AHS" vets Evan Peters, Chloe Sevigny, Wes Bentley as well as newbies Lady Gaga, Matt Bomber and Cheyenne Jackson.
2. After roles in both "Coven" and "Freak Show" Oscar winner Kathy Bates will return to "AHS: Hotel."Murphy announced the news via Twitter writing, "Kathy Bates is running the Hotel. #AHSSeason5." This indicates that Bates will play the mysterious hotel owner. Not much else is known about her role.
3. "AHS" vets Michael Chiklis and Finn Wittrock all told Us Weekly on the PaleyFest red carpet that they were interested in returning to the series, but had not heard any information on their potential new roles. Denis O'Hare also confirmed to reporters that he would like to return.
4. Other regular AHS players, including Emma Roberts, Lily Rabe, and Gabourey Sidibe, have not commented one way or another on their involvement. Roberts and fellow vet Paulson are both signed on for new Murphy series, "American Crime Story," and Roberts in "Scream Queens" on Fox.
5. Jessica Lange will not be returning for season five. The 65-year-old actress confirmed her departure at Paleyfest.
"Yes, I'm done," the actress revealed. "We've had a great run here. I have absolutely loved doing these four characters that I've had the opportunity to play. In all the madness, I've loved the writers, my actors, Ryan [Murphy, creator] and the whole, I mean, insanity of it, shooting here, shooting in New Orleans, the stories, everything."
6. During the TCA winter press tour FX Networks CEO John Landgraf indicated season five of "AHS" will make some drastic changes to help improve the show as a whole.
"I know what [the premise for season 5] is, but I can't [say]. I have to let [series boss] Ryan [Murphy] do his thing on that. But it's very different."
Landgraf added, "One of the things I love so much about that is that it can be radically, radically reinvented in terms of tone, setting, period, characters, cast… I think there's going to be an unusually large reinvention in between Book 4 and Book 5 relative to, say, between Book 3 and 4."
7. Fans have theorized that clues were left in the previous season of "AHS" that give us a location for season five, the Garden of Allah Hotel in Hollywood.
According to Movie Pilot's web site Jessica Lange's character in "AHS: Freak Show," Elsa Mars, was inspired by Marlene Dietrich, the star of a film entitled Garden of Allah that was made in 1936.
The site also reveals, when Stanley is on the spinning board pleading for his life, he tells Elsa that he knows people in LA, because his brother "works at the Garden of Allah" in Hollywood.
Also viewers have noticed that in the bistro scene in the first episode of "AHS: Freak Show," Elsa mentions The Garden of Allah (although this is a reference to the film, not the hotel).
8. A rumor making its rounds on the internet says the show's storyline will be using the song "Hotel California" from the Eagles as a source material. The song was allegedly about Anton LaVey, the founder of the Church of Satan. According to Inquisitr, LaVey purchased a hotel in San Francisco and turned it into the Church of Satan.
9. No official release date has been revealed but The Wrap reports FX renewed "American Horror Story" for a 13-episode fifth season that will debut in October 2015.
10. "American Horror Story: Hotel" has been revealed to have a 13-episode arc and production will begin in Los Angeles late summer.
© 2023 Latin Times. All rights reserved. Do not reproduce without permission.