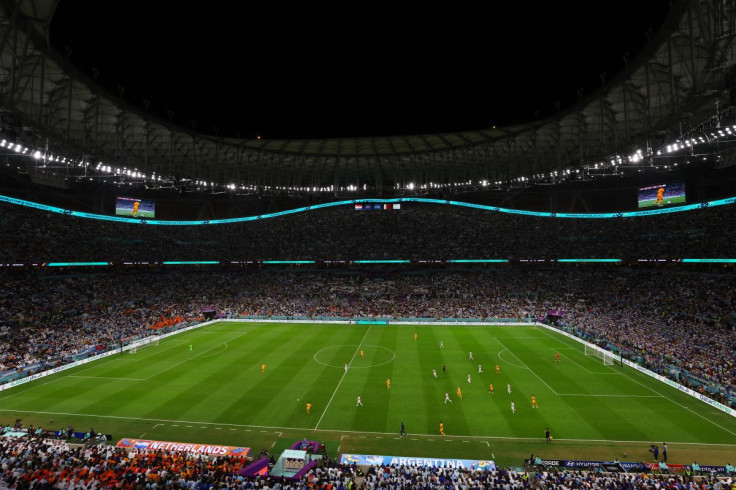 American sportswriter Grant Wahl collapsed at Lusail Stadium today in Doha, Qatar while covering the Argentina-Netherlands World Cup quarterfinal.
According to a Yahoo report, soccer reporter Henry Bushnell was present at Friday's Argentina-Netherlands match and witnessed Wahl unconscious in his press box seat at Lusail Stadium. The report added, medics worked on Wahl for approximately half an hour before taking him out on a stretcher.
The cause of death remains a mystery, while according to his brother Eric Wahl and the soccer federation, the journalist died en route to the hospital.
Wahl's wife Celine Gounder, tweeted minutes after the acknowledgment of her husband's death.
Wahl made headlines earlier in the tournament when he drew attention to himself after he wore a pride shirt in support of the LGBTQ+ community to a game. The shirt was not allowed under local laws, as the soccer writer was later escorted out of the stadium by security guards.
Wahl recently published a piece about migrant deaths in Qatar, Wednesday evening. The second time Wahl has stirred the pot, and upset the Qatari government.
The cause of death is uncertain at this time for the award-winning sportswriter. "I'm Grant Wahl's brother, I'm gay and I'm the reason he wore the rainbow shirt to the World Cup," Eric said in a video, according to Yahoo. He added "We just spoke with the state department and Celine [wife] has spoken to Ron Klain and the White House."
Wahl's wife Gounder did not immediately return Insider's request for comment. Gounder tweeted and had this to say "I am so thankful for the support of my husband's soccer family & of so many friends who've reached out tonight. I'm in complete shock."
Wahl is one of the best-known soccer writers in the United States.
© 2023 Latin Times. All rights reserved. Do not reproduce without permission.