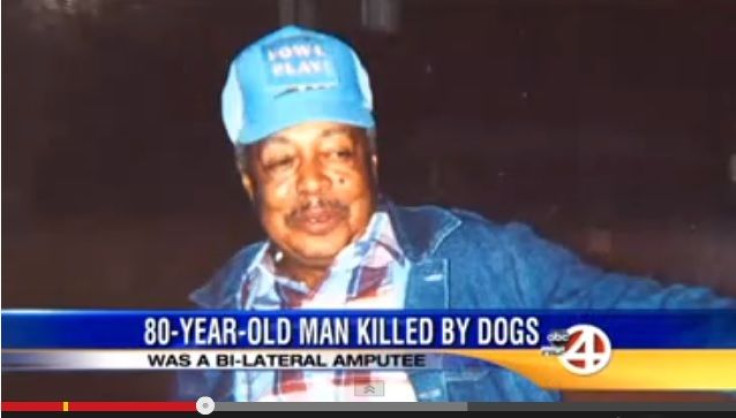 83-year-old Carlton Freeman a double amputee was killed by a group of dogs after suffering serious injuries as a result of the attack. A spokesman for the Dorchester County Sheriff's Department said the South Carolina man was attacked by pit bulls.
The amputee killed by the dogs had both legs surgically removed below the knee after his diabetes caused more serious health problems. The amputee killed by the dogs was driving around in his motorized wheel chair on May 8 when the 4 pit bulls attacked him.
The Associated Press says that Freeman was pulled from his wheelchair by the dogs who then began to bite him and pull on his cloths.
Freeman was brought to the hospital where he died 4-days later as a result of his injuries. The coroner, Chris Nesbit issued a statement saying he was surprised that Freeman was able to hang on for as long as he did.
"Upon my examination of Mr. Freeman, it is a wonder that this gentleman was able to hang on as long as he did," Nesbit said in a statement. "He had bites and lacerations from his legs to the top of his head. This is a very sad story, but even worse that Mr. Freeman was basically helpless to the attack, due to being a bi-lateral amputee."
3 out of 4 of the dogs that killed Carlton Freeman were found and taken to local animal shelters. The 4th dog involved in the attack has yet to be located. The dogs belonged to a woman from the community where Freeman was killed. Reports are saying that no arrests have been made in the fatal attack.
According to a local ABC broadcast family members saw the 4 dogs attack Freeman and try to pull him towards the woods. What makes the tragedy all the more difficult is that the owner of the dogs is a member of the Freeman family.
Some people may not be surprised to hear that a pit bull (or 4) was involved in an attack that led to the death of an elderly man. Many people naturally assume that the pit bull is a dangerous and aggressive dog, but this is not the case for all pits.
With the proper owner and training that begins as soon as you get your dog home, the pit bull can be a loyal and loving family pet. Unfortunately "pit bull licks baby's face" does not make as many headlines as "pit bull kills elderly man."
This is not meant to take away from what the Freeman family is feeling. The loss of a family member on such gruesome terms is a lot to deal with and the family deserves thoughts and prayers.
It should also be acknowledged that any dog breed can be made aggressive if that is the intent of the owner. Any dog can lose control if it is not cared for properly and any dog can see humans as a threat if it turns out they have been mistreated by their owners.
© 2023 Latin Times. All rights reserved. Do not reproduce without permission.