Benedict Mathurin of the Arizona Wildcats has been drawing attention but not as a star player for his team.
The 19-year-old sophomore, who finished with 30 points, 8 rebounds and 2 assists in their victory over TCU on Sunday, finds himself in the middle of a controversy after videos showed him touching the chest of a TCU cheerleader as he was heading towards the locker room.
The videos have circulated online but it was the part when he touched the chest of a TCU showgirl before exiting the court that has drawn criticism. While footage showed that it appeared to be intentional, the 19-year-old has yet to address the matter.
It was an unfortunate incident that got noticed after Arizona won over TCU in overtime, 85-80. The victory allowed the Wildcats to advance to the Sweet 16 of the NCAA tournament.
The tunnel to the Arizona locker room was located where TCU's spirits squads were positioned on the court in front of a TCU fan section.
According to the Forth Worth Star-Telegram, TCU and University of Arizona officials have been in contact with regards to the postgame incident.
However, new video footage shows that the breast touch was unintentional.
In another footage filmed from a different vantage point by @hostessproblem3, Mathurin doesn't appear to touch the cheerleader at all and can be seen sidling around the woman to avoid getting too close as he walks past.
Further, the cheerleader doesn't appear to flinch or react in either of the videos that have emerged, the Daily Mail reported.
With the Wildcats set to face Houston on Thursday, it will be interesting if any sanctions or developments will crop up before that said match that will be held in San Antonio.
Arizona is the 1-seeded team in the South Region.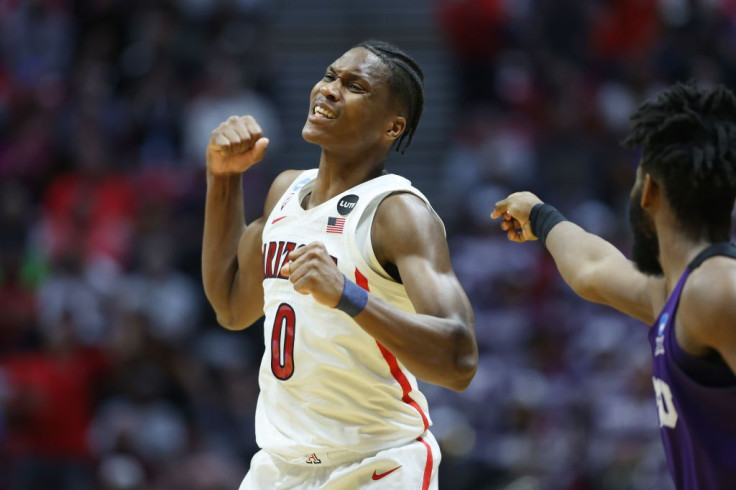 © 2023 Latin Times. All rights reserved. Do not reproduce without permission.