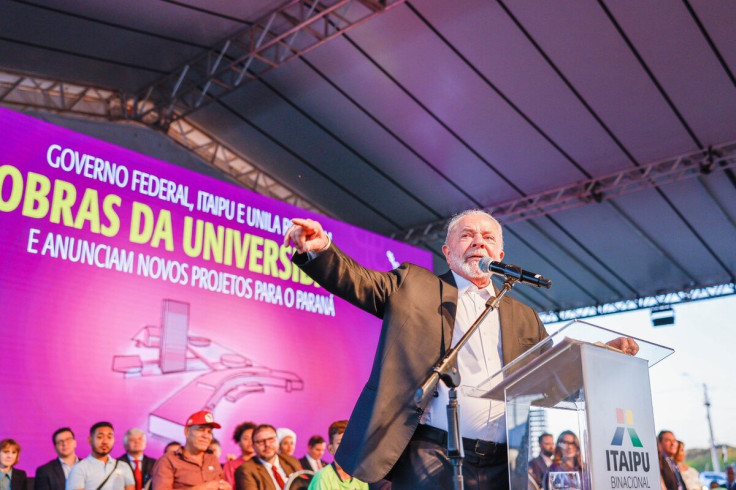 Hammering home his message that Brazil is "back to normal," President Luiz Inacio Lula da Silva will set aside bad blood and mutual suspicion with the military to mark the country's independence day Thursday.
Things are awkward between the commander-in-chief and the armed forces, which were heavily involved in the government of Lula's predecessor and nemesis, far-right ex-army captain Jair Bolsonaro.
Many of the military's 350,000 active-duty members backed Bolsonaro in his divisive election loss to veteran leftist Lula last year.
And uncomfortable questions linger over whether armed forces members had a role in events surrounding the riots by Bolsonaro supporters who invaded the presidential palace, Congress and Supreme Court on January 8, calling for the military to oust Lula.
But Lula, riding strong approval ratings, is setting that aside for September 7, Brazil's national day, when he will preside over what his office bills as a celebration of "democracy" and "union," including the traditional military parade.
He called Tuesday to make it a "September 7 for all," not just the military.
It will be a low-key affair compared to Bolsonaro, who marked the 200th anniversary of Brazil's independence from Portugal last year by rallying frenzied supporters, presiding over multiple military parades and trotting out the embalmed heart of independence hero Dom Pedro I.
"We've returned to a more civilized climate," said political scientist Marco Antonio Carvalho Teixeira of the Getulio Vargas Foundation.
"The build-up to September 7 is proof. We haven't seen any explosion of tension, threats of institutional rupture or verbal aggression from the president," he told AFP.
But Lula's relationship with the military remains "very delicate," he added.
Brazil's armed forces were perceived as exceptionally close to Bolsonaro, who waxed nostalgic on Brazil's 1964-1985 military dictatorship and tapped thousands of service members to work in his administration.
"The vast majority of armed service personnel would have preferred another president instead of Lula," retired brigadier general Paulo Chagas told AFP.
Many in the reserve forces in particular "idolize" Bolsonaro, he said.
Lula, a one-time anti-dictatorship union leader who was previously president from 2003 to 2010, has had some tense moments with the military since returning to office on January 1.
He fired the army commander in the aftermath of the January 8 riots, and his administration is pushing legislation to bar active-duty service members from politics.
But the leftist icon has also extended an olive branch in his trademark style, allocating a whopping 52.8 billion reais ($10.6 billion) for defense projects when he unveiled a 1.7-trillion-reais infrastructure investment program last month.
Lula, 77, is currently riding a high.
The economy has outperformed expectations, and he has a 60-percent approval rating.
The opposition has meanwhile been largely silenced, with Bolsonaro hit by various police investigations and a ruling by electoral authorities barring him from running for office for eight years.
Against that backdrop, the armed forces are going through an "enormous identity crisis," said Nelson During, editor of military news site DefesaNet.
The military, which had carefully projected an image of apolitical professionalism since the dictatorship, is suffering an erosion of public trust, leaving many officers feeling "lost" and "baffled," During told AFP.
Military officers in Bolsonaro's inner circle have been implicated in some of the investigations against the ex-president, including allegations of helping him try to embezzle pricey official gifts from foreign countries.
And a Congressional investigation into the January 8 riots has included scrutiny of potential military involvement in an anti-Lula coup plot, plans for which were found on the phone of a top Bolsonaro aide, an army officer.
Lula said in April he felt "hurt" by service members' actions, and sent the military a message: "This isn't Bolsonaro's army anymore."
At the same time, the military faces fierce criticism from Bolsonaro supporters who thought commanders would back them on January 8.
"Military personnel feel attacked by both left and right," columnist Miriam Leitao wrote in newspaper O Globo.
Social media messages urging conservatives to "stay home" on independence day have gone viral.
"Generals, we'll never forget your betrayal," says one.
Far-right hardliners are meanwhile pushing to create a different holiday, to be celebrated on January 8: "Patriot's Day."
© 2023 Latin Times. All rights reserved. Do not reproduce without permission.