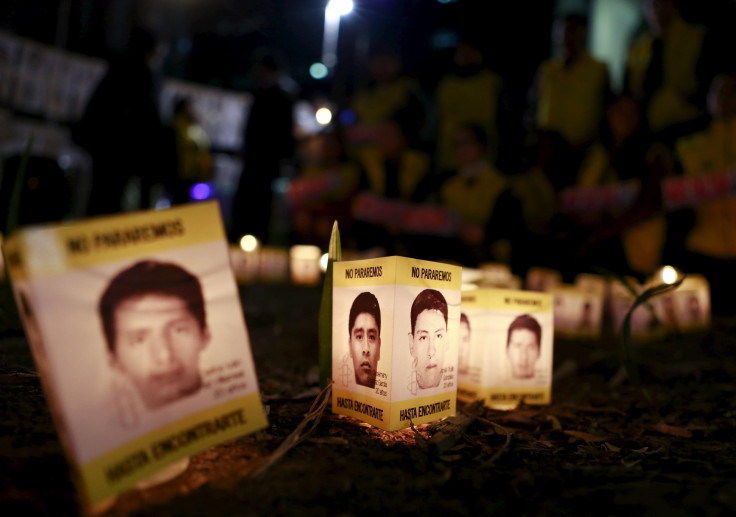 Frustrated with the official government explanation for the death of their children, some of the parents of the 43 missing Ayotzinapa students appealed to a local cartel leader to uncover the truth. In a message posted on a wall on a public street in Iguala, they addressed crime lord Santiago Mazari Hernández, a.k.a. "El Carrete," the most wanted man in Morelos, Mexico.
"Dear Mr. Santiago Mazari Hernández. [We read your February message] We ask you help us find the whereabouts of our children, because this bad government hasn't taken us seriously. [...] We are poor people, and they've stomped on our dignity. Let us know one way or another if you can help us. We are open to meeting with you if that is what you would like," the message said.
Mr. Hernández, is wanted by police for homicides related to his own alleged criminal activity. He is the leader of the Rojos, a rival Guerreros Unidos. Both gangs were alleged to have been involved in the kidnapping of the 43 students, but the Rojos reported wrote a message on a sheet last February stating that they were not involved, and offering to provide information to the parents.
Hernández also used his message to advance an apparent conspiracy theory in which he alleged that the government sought to assassinate him to cover up the truth about the disappearances. Hernández is unlikely to have any unique information on the killings, but his statements could be believable to desperate parent who no longer trust the government.
The message directed at Hernández by some of the victim's parents followed recent arguments by the families' lawyer Vidulfo Rosales that the government was covering up it's involvement in the kidnapping. He told El Processo on Saturday that his reconstructions of the scene points the the presence of Federal Police at the site of the kidnapping and murder of all or some of the students. Police deny that any of their agents were involved in the attack, blaming it squarely on local gang members.
Omar García a survivor of the alleged mass murder, said on Twitter called parent's recent letter a "grave error."
"They say they'll go to hell and back to find their children. It's not that simple. We students are the ones that act tactfully, not the parents, and in this instance they acted without consulting us," García said in a statement.
© 2023 Latin Times. All rights reserved. Do not reproduce without permission.