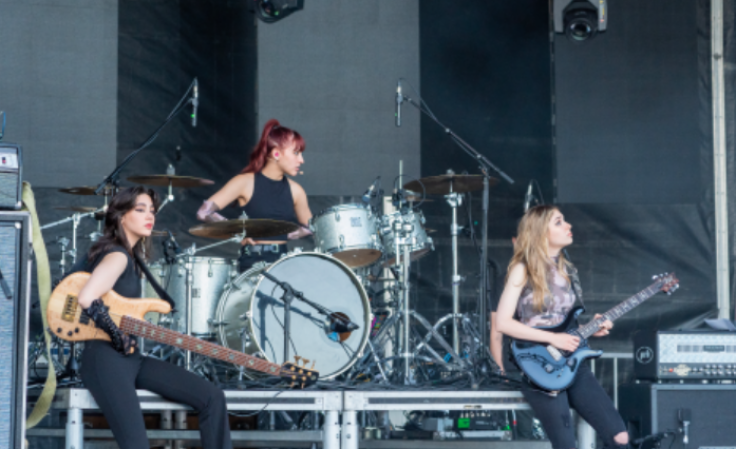 The Warning is a rock band of three sisters from Monterrey, Mexico.
After going viral with a cover of Metallica's "Enter Sandman" on YouTube as kids, The Warning, who are now in their late teens and early twenties, have built themselves up as a rising act within the hard rock world.
Over the course of their career, the band has performed with bands such as Foo Warriors, Muse, Halestorm, The Pretty Reckless, and Three Days Grace.
Currently, the Warning unleashed a new single entitled "MORE" via LAVA/Republic Records.
On the new single and music video The Warning said: "We feel "MORE" is a natural transition to our musical evolution where we get to express our taste in music in a fresher cooler sound, maintaining The Warning's core rock sound. 'MORE' is a song about relationships push and pulls and wanting 'MORE' out of life."
Meanwhile, the band's ERROR tour is happening now, the North American tour will conclude May 23 and thereafter they will proceed to perform in Europe and Mexico.
ERROR TOUR DATES – NORTH AMERICA
May 16 – House of Blues – New Orleans, LA
May 17 – Buckhead Theatre – Atlanta, GA
May 18 – The Underground – Charlotte, NC
May 19 – Welcome to Rockville Festival – Daytona Beach, FL
May 21 – Irving Plaza – New York, NY
May 22 – Baltimore Sound Stage – Baltimore, MD
May 23 – Theatre of Living Arts – Philadelphia, PA
Additional Perfomance Dates - EUROPE and MEXICO May 27 – Will of the People Tour (Muse Support) – Plymouth, UK June 3 – Rock Im Ring Festival – Nurnberg, Germany
June 4 – Rock Am Ring Festival – Nurburgring, Germany June 9 – Download Festival – Donington Park, UK
June 14 – Loud Fest – Zurich, Switzerland
June 15 – Will of the People Tour (Muse Support) – Lyon, France June 20 – Will of the People Tour (Muse Support) – Huddersfield, UK June 23 – Will of the People Tour (Muse Support) – Glassglow, UK June 27 – Will of the People Tour (Muse Support) – Milton Keynes, UK Oct 21 – Headline (Teatro Diana) – Guadalajara, MX
Oct 28 – Headline (Pepsi Center) – CDMX, MX
© 2023 Latin Times. All rights reserved. Do not reproduce without permission.