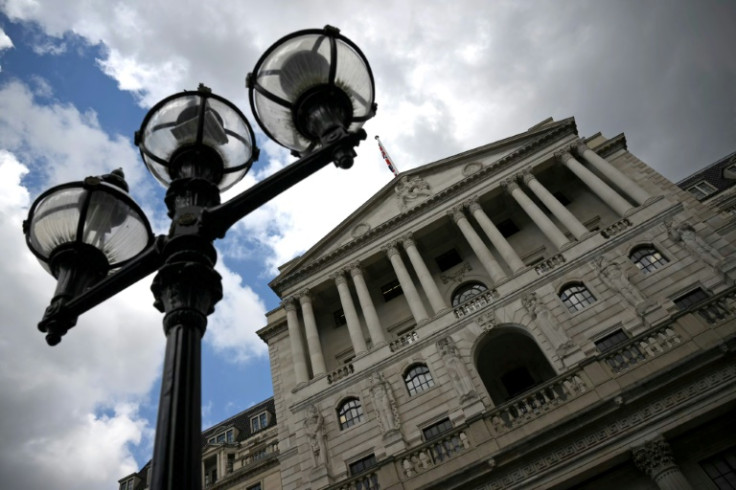 The Bank of England was expected Thursday to keep its interest rate on hold for a second successive meeting, as Britain battles stubbornly high inflation and weak economic growth.
The BoE announces its decision and latest economic forecasts at midday following a regular policy meeting amid a lingering UK cost-of-living crisis as oil prices rally on the Israel-Hamas war.
On Wednesday, the Federal Reserve left US interest rates at a 22-year high for a second straight meeting as it moved to slow stubborn inflation without damaging the strong US economy. In a widely expected decision, the Fed kept the benchmark lending rate between 5.25 percent and 5.50 percent.
The BoE's rate stands at 5.25 percent -- the highest level in more than 15 years. It paused at its last meeting in September, snapping 14 straight hikes.
The European Central Bank last week left eurozone borrowing costs unchanged after raising them in each of its previous 10 meetings.
"Several central banks... have reached the point where they are likely hoping that rates have peaked -- but they are simultaneously wary that sticky inflation could force them to take further action," Rabobank analyst Jane Foley told AFP.
The BoE began lifting its main interest rate from a record low of 0.1 percent at the end of 2021, when inflation started to creep higher as economies slowly emerged from Covid-19 lockdowns.
UK inflation subsequently rose to a 41-year peak at 11.1 percent in October 2022, stoked by spiking energy prices after the invasion of Ukraine by major oil and gas producer Russia.
It has since dropped to 6.7 percent but remains the highest annual inflation among G7 rich nations.
It is also more than three times the BoE's target level of two percent.
Britain's economy grew by a stronger-than-expected 0.3 percent in the first quarter and expanded by 0.2 percent in the second quarter -- but remains at risk of recession as high inflation weighs on the economy.
While recent official data showed UK average wage growth outstripping inflation for the first time in almost two years, retail sales have slumped.
Britons are still struggling to pay bills and the country has been blighted by months of major strikes by workers across its public and private sectors.
Rate hikes have worsened the situation because retail banks follow suit by hiking the cost of repayments on mortgages and other loans.
Analysts widely expect the economic backdrop to trigger another BoE rate pause Thursday.
"The BoE's Monetary Policy Committee will be highly mindful about not piling on more pressure, with the UK economy only just crawling ahead," noted Susannah Streeter, head of money and markets at Hargreaves Lansdown.
"We are still very much in 'wait-and-see' mode and a cautious mood is set to prevail."
© 2023 Latin Times. All rights reserved. Do not reproduce without permission.