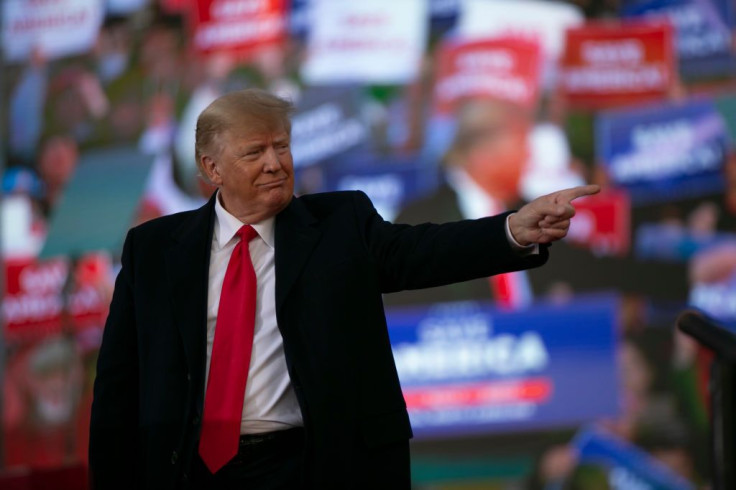 As preparation for potential demonstrations, New York City police have put up metal barriers surrounding Trump Tower and closed off access to the Manhattan Criminal Courthouse ahead of Donald Trump's anticipated surrender to prosecutors on Tuesday, Apr. 4.
After his indictment in a grand jury investigation into hush money payments to a porn star, the former president is scheduled to be arraigned at the courthouse on Tuesday afternoon. He is the first ex-president of the United States to be charged with a crime.
The probe has been described by Trump as a political witch hunt, and top supporters, including Republican lawmaker Marjorie Taylor Greene, say they will go to New York on Tuesday to protest.
Before Trump's anticipated presence, some courtrooms at the downtown courthouse, which houses the criminal and supreme courts, would be closed, a court official said.
According to Site Intelligence Group, which tracks internet extremism, some social media users have demanded the execution of Manhattan District Attorney Alvin Bragg and the jury that found Donald Trump guilty, Reuters reported.
On Jan. 6, 2021, after Trump falsely claimed to have won the previous election, his supporters attacked the U.S. Capitol building, sparking a deadly riot.
However, many Trump supporters online have expressed wariness about public demonstrations, even after Trump called for them, concerned they could be arrested.
"(The) department remains ready to respond as needed and will ensure everyone is able to peacefully exercise their rights," the NYPD said in a statement.
According to a Trump adviser, Trump would take a flight from Florida to New York on Monday, April. 3, stay the night at Trump Tower, and then arrive at the courthouse early on Tuesday.
It is not yet known whether the former president's appearance would attract a sizable number of demonstrators, even though the spectacle of the former president being charged with a crime was certain to garner tremendous media attention.
Despite being a native of New York, Trump received only 23% of the vote in the city in 2020 and 18% in 2016.
The New York Young Republican Club says it is planning a protest at a park across the street from the courthouse, a demonstration that Greene, one of Trump's staunchest supporters in Congress, says she will attend.
"Protesting is a constitutional right," Greene said on Twitter, adding that she would "protest this unprecedented abuse of our justice system and election interference." She stated that she detests anyone who advocates or engages in violent acts.
The grand jury heard testimony concerning a $130,000 payment made to adult film actress Stormy Daniels in the final weeks of the 2016 presidential campaign before moving to indict Trump.
Stephanie Clifford, aka Daniels, has claimed she was paid to remain silent about a sexual encounter she had with Trump in 2006. Trump denies the sexual encounter.
Shortly before Trump's anticipated 2:15 p.m. (1815 GMT) arraignment, a court official informed Reuters that the courtrooms on the upper levels of the courthouse will close at 1 p.m.
Several court cases will be adjourned in a building across the street from the courtroom, the official added.
© 2023 Latin Times. All rights reserved. Do not reproduce without permission.