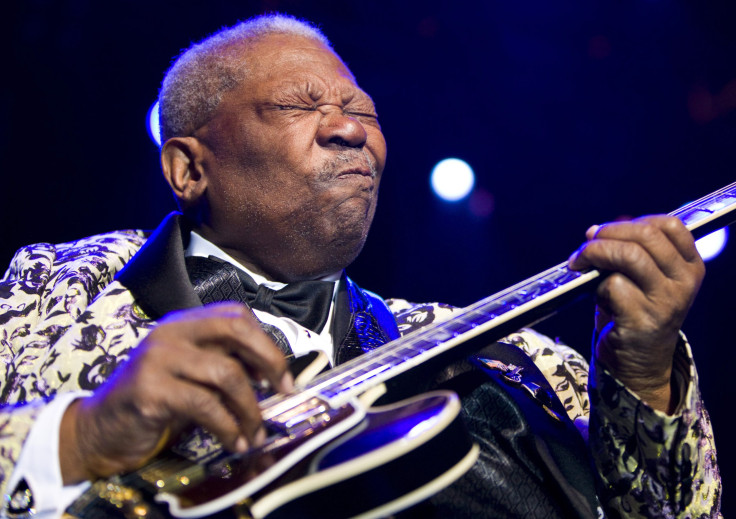 Bluesman and poet BB King died in his sleep on Thursday night, May 15, 2015. He was 89 years old. BB was short for Blues Boy, a nickname that King earned through a an early life of hardship and channeled through his vibrato guitar style and thundering voice. King was born in a sharecropper's shack in 1925 in Itta Bena, Mississippi. He lost his parents at an early age and was raised by his grandfather. He first put food on the table picking cotton and later as a tractor driver. He got his first break as a disc jockey in Memphis, Tennessee. In "Why I Sing The Blues," King embodied the struggles of generations of a poor underclass.
Yes, I say everybody wanna know
Why I sing the blues
Well, I've been around a long time
I really have paid my dues
When I first got the blues
They brought me over on a ship
Men were standing over me
And a lot more with a whip
BB King may have been discarded by his niche audience in the 1960s if not for inspiring an emerging generation of white rock stars in the U.S. and U.K. Singers like Eric Clapton and bands like the Rolling stone brought BB King's poignant blues sound into their rock and roll anthems. That blues sound may have been epitomized by "The Thrill Is Gone," a trilling song of sorrow mourning lost love. Well, The Thrill is gone, but his music carries on.
The Thrill Is Gone
Sweet Little Angel
I Believe To My Soul
Everyday I Have The Blues
Come Rain Or Come Shine (With Eric Clapton)
Worry, Worry, Worry (Live At The Cook County Jail)
Eric Clapton Mourns BB King
Live At The Regal (Full Album)
Crying Won't Help You
© 2023 Latin Times. All rights reserved. Do not reproduce without permission.