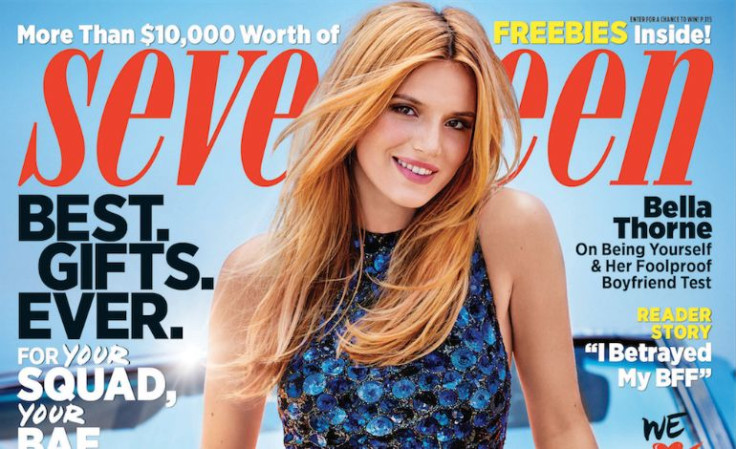 Bella Thorne is on the cover of "Seventeen" looking more radiant than ever discussing about mean girls in the business, why she doesn't yet have her drivers license and her past relationships. Also did you know she lived off food stamps in the past? Here's what the Latina had to say about her life experiences as a young artist. "I have a mean girl, she's in the business, and she's very, very mean. I stay away from her at all costs." Thorne said, making fans curious about her Hollywood enemy, "I never say hello to her. Her siblings are not mean like she is. It's just her. One of the reasons I don't like her is because she's been a billionaire since she was very little, and she's never had to work for anything in her life."
The actress also revealed in the interview that she's no stranger to hardships and the heartbreaking reason why she still hasn't moved to get her own driver's license, "No, not yet. I don't have my permit either," she responded, "I have a fear of driving. My father died in motorcycle accident. I'm not mature enough to accept the responsibility of perhaps taking someone else's life." Thorne admitted that her family really struggled financially after the unfortunate event happened, and they had to lived off food stamps "I don't think anybody really knew—it wasn't a very obvious thing. I've never really talked about it. I wasn't hiding it, and it wasn't like, 'Oh, I'm embarrassed because we don't have money.' It was, 'Oh, we don't have money, so we're going to work that much harder.' It was scary, though, because you really want those jobs. It's a different hunger when you want your family to eat."
The star additionally shared a piece of advice on what she learned from a relationship in the past, explaining why you should never go through your significant other's phone,"an ex of mine and I knew each other's phone passwords, and he was constantly going through my phone. I learned not to do that because anything can be misread. Gregg has my password, but he doesn't go through my phone. The ex and I also had a 'Don't talk to the opposite sex' rule, so if a guy I was working with wrote me, it would be a big problem."
Bella will be featured on the cover of Seventeen's December 2015/January 2016 issue, which hits newsstands November 24.

© 2023 Latin Times. All rights reserved. Do not reproduce without permission.