The current president of Peru is calling for a national truce as protests in the country continue to rage on.
Dina Boluarte, sworn in after the impeachment of former leader Pedro Castillo, made the call in her speech. However, there were reportedly thousands of reporters who ended up marching in Lima and demanded that she step down.
When the clashes broke out, police fired tear gas at protesters. In retaliation, protesters threw rocks at law enforcement.
Also, there were chants of "Boluarte, murderer," referencing to the Peruvians who were killed following confrontations with the police.
Part of Boluarte's speech included stating that radical groups with a political and economic agenda rooted in drug trafficking, illegal mining and smuggling were behind the Peruvian protests.
Boluarte added that while she supported the right to protest, she rejected violence.
"I, too, have marched as part of just fights for labour and student rights, but protests can't be accompanied by violence, destruction and death," the Peru leader said.
Further, she tried to shed light as well on those who were killed. She stressed that they were not shot by authorities but by fellow demonstrators.
"The deaths occurred not where police were but in nearby streets," she said.
Unfortunately, Peru's ombudsman had a different take on the unrest, alleging that 46 people were killed in direct clashes with authorities.
The current government has been accused of using excessive force as it tries to quell protests in the country.
Also, Chile President Gabriel Boric weighed in on the unrest, criticizing how people who go out to protest and demand for what they feel is fair.
Peru's justice minister responded by saying that they have been responding appropriately to protests.
"Actions taken to restore public order have been undertaken in full compliance with constitutional and international obligations," he said in a video address to the United Nations Human Rights Council in Geneva.
Boluarte, Castillo's vice president during his time as president, is hoping that Congress would agree to hold an election earlier than April 2024. She has also ruled out the possibility of her resigning.
In the latest update, a group of Peruvian lawmakers have also reportedly submitted a motion seeking to impeach Boluarte, citing permanent moral incapacity, Reuters reported.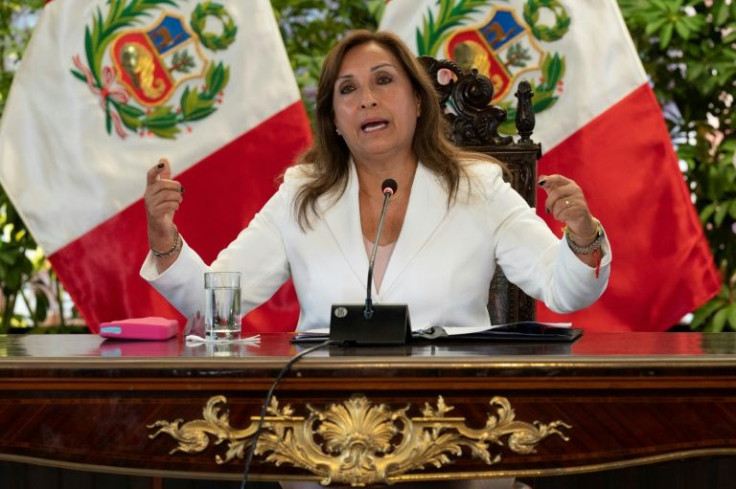 © 2023 Latin Times. All rights reserved. Do not reproduce without permission.