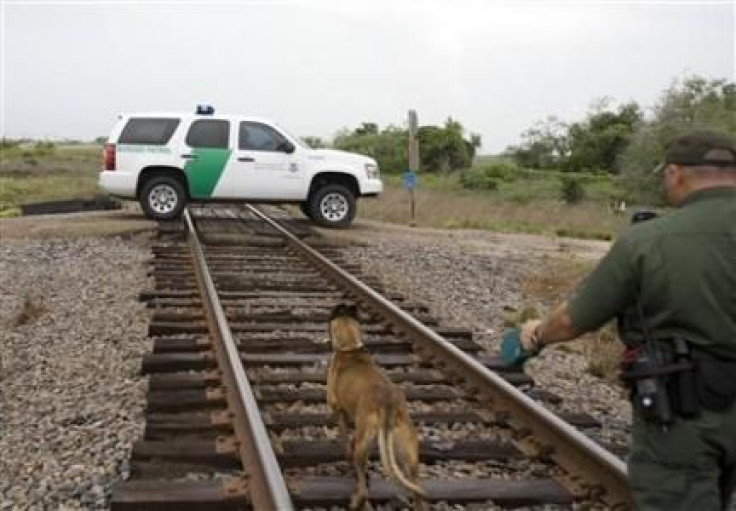 Border patrols, especially those carried out by citizens unaffiliated with the US Border Patrol agency, have increased their use of dogs to detect migrants crossing the US-Mexico border illegally, according to a Mexican human rights group. Diana Evelyn Mata Monreal, the director of the Social Assistance and Humanitarian Aid Foundation (ASAHAC), says that members of a volunteer patrol in Falfurrias, Texas, about 90 minutes from the border, has made especially heavy use of dogs in finding undocumented border-crossers and reporting them to the Border patrol.
Dogs used by the US Border Patrol have been not just to find humans and narcotics which have been concealed from view, but also for tracking and searches carried out over a large area. The Border Patrol says it uses German Shepards and Belgian Malanois in their operations, training them to indicate passively to officers where the sought-after human or drugs are to be found. It says that unlike most police departments, bite dogs are rarely used. In a statement, Mata Monreal appeared to disagree, denouncing the "racist actions which are being carried out by authorities from the 'Border Patrol' to carry out the detention of immigrants, utilizing canines to attack illegals".
"As an organization which defends human rights, we are against this clear aggression against human rights which is being committed by stirring up these animals which have already bitten people who cross in an illegal manner into North American territory," the statement read. "We are adding our voice to the general protest made by human rights defenders to the United Nations, so that North American authorities put a halt to the use of these animals to hunt down those who cross into the United States."
Mata Monreal also said that violence against migrants at the southern border with Texas has gone up, and added that Mexicans are among the most frequently trafficked citizens of any of the world's nations. "Sadly, Mexico occupies second place in the exporting of victims of human trafficking after only Thailand. Our territory has become an exporter of boys, girls and adolescents for sexual exploitation," she told Notimex. The phenomenon of migration, she said, goes hand-in-hand with the crime of human trafficking, as those who prey on others often do so by taking advantage of the fact that their victims are outside of their own countries. The ASAHAC director also lamented the lack of public campaigns aimed at informing the public about these crimes. "The traffickers are everywhere. There's various types of human trafficking crimes, but the two most frequent are work-related and sexual exploitation."
RELATED: Immigration Reform 2013: Path To Citizenship Or Just Legal Status For The Undocumented? Try Both, Says One Expert
© 2023 Latin Times. All rights reserved. Do not reproduce without permission.