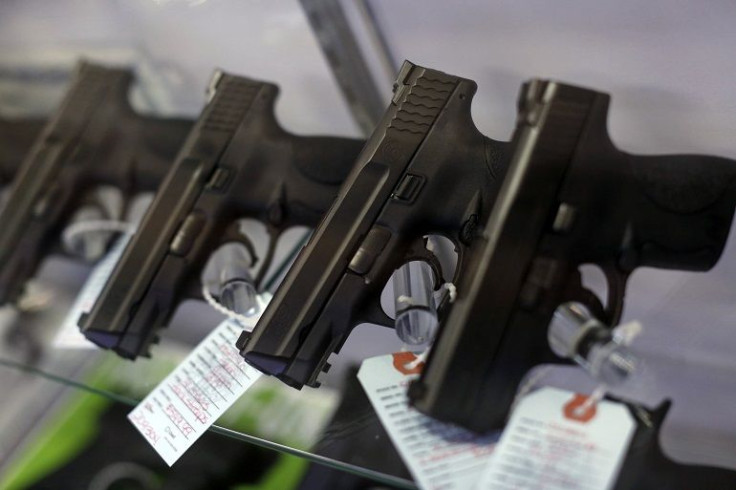 Jonathan Schmidt arrived at the Federal Police headquarters in the heart of Rio de Janeiro on time, carrying a luggage bag containing a golden pistol and seven rifles, one of which was protruding from the zipper.
"I'm in love with guns," Schmidt confessed. "I'd have over 2,000 if the government allowed."
As required by law for sports shooters like him, he had already registered his firearms with the army.
However, experts have questioned the validity of its database and claimed slack enforcement has allowed such rifles to end up in the hands of criminals. On the last day to comply with a directive by Brazil's new left-wing president, Schmidt was adding his firearms to the police registration on Wednesday.
If he didn't, they would be confiscated.
During his four years in office, former president Jair Bolsonaro attempted to transform a nation where possessing a firearm and a lack of regulations meant having personal freedom.
Now, Bolsonaro's pro-gun policies are being overturned by his successor Luiz Inácio Lula da Silva, starting with the requirement that gun owners register their weapons with the police. After some initial opposition, he began to have success.
However, according to Justice Minister Flávio Dino, more than 6,000 restricted-use firearms, including assault rifles, that were previously registered with the army were not delivered to police by the deadline of May 3.
Those are now the subject of an investigation and may be seized because they were probably diverted to criminals, he said.
Brazilians were encouraged to surrender their firearms in exchange for a symbolic reward from the government in the country's last effort to ban firearms in 2003. The degree of participation was impressive.
However, according to Bolsonaro, a right-wing politician, the disarmament law was a historic error. He was the first presidential candidate in Brazil to run on a pro-gun platform, echoing elements of American conservatism. He claimed that "good citizens" have a right to firearms to defend their families and property.
He changed the laws governing the amount of ammunition that people can own and their access to certain firearms. He stated again and time again that "an armed populace will never be enslaved."
In a nation of 214 million people, according to the non-profit organization Instituto Sou da Paz, which monitors public security, the number of firearms in civilian hands has tripled to 2.2 million under Bolsonaro. It continues to be much lower than in the U.S., and Brazil does not have a constitutional right to bear guns.
"We had sharp growth in firearm access, including restricted-use weapons," Michele dos Ramos, who is leading the workgroup in charge of gun policy within the Justice Ministry, told the AP by phone. "In order to write any guidelines to restructure gun and ammunition policies and regulations, it is important we have a diagnosis of the situation of these weapons."
An order that Lula issued on his first day in office mandating gun owners to register their weapons with the Federal Police was postponed by one month. Officers at the Federal Police headquarters in Rio have registered as many as 50 weapons per day.
But people had been wary.
"There was a lot of concern primarily at the beginning when they arrived here. They believed we were going to confiscate their guns," Marcelo Daemon, the head of the Rio police's department overseeing arms control, said in an interview in his office. "A lot of fake news circulated on social media and people came here with fear."
"We have a more armed country, a stronger gun culture, more representatives focused on the pro-gun agenda," said Carolina Ricardo, executive director of Instituto Sou da Paz.
She added that Congress will be the "thorn in the side" of groups pushing for stricter gun control. In last year's election, the so-called "bullet caucus" of pro-gun lawmakers gained dozens of new seats.
The army collected and stored information on gun ownership for sport shooters, collectors, and hunters, known as CACs, prior to the registration program started by Lula's administration.
Bolsonaro removed the burdensome process of submitting paperwork, justifications, and psychological tests to the Federal Police, which registers firearms owned for self-defense, limiting the force's ability to track the total number of firearms in circulation.
Army data up until recently showed that since May 7, 2019, when Bolsonaro made significant modifications to rifle and ammo access, CACs had purchased 762,365 firearms.
However, according to data gathered through freedom of information requests, Instituto Sou da Paz and the Igarape Institute, a different security-focused non-profit, estimate that the figure is missing about 100,000 additional guns.
According to the Justice Ministry, the army secretly updated its database toward the end of last month to reflect nearly 200,000 new registered firearms.
The authorities sought to identify precisely how many guns of what types—possibly in the hands of criminal organizations—were no longer with their original owners by mandating in-person registration.
On Thursday, Minister Dino revealed data that showed 939,154 guns had been registered with the Federal Police, the majority of which were now included in the army's database following a recent increase in its total, AP News reported.
"This (amount) is probably greater than the arsenal of practically all of the military police in the whole country," he said. "We already have a lot of guns in private hands in Brazil."
Even while some had encouraged their followers to do so reluctantly, most gun proponents eventually changed their minds. Midway through March, Marcos Pollon, a federal politician and the head of a pro-gun organization sometimes equated to the National Rifle Association, referred to the government initiative as "absolutely illegal and unconstitutional."
He posted a video on YouTube, where he has over 150,000 subscribers, a week later in which he claimed to have registered his pistol and warned those who hadn't to face the penalties.
By May 15, the Justice Minister intends to present Lula with a new decree that would impose new regulations on shooting ranges and gun stores and set a cap on the number of firearms and rounds that can be purchased by ordinary citizens.
The gun owner in Rio, Schmidt, had thought the government's registration drive was embarrassing.
"This way, we remain legal," he said.
But now, he claims, he realizes how critical it is for the Federal Police to be aware of every weapon possessed by a civilian.
© 2023 Latin Times. All rights reserved. Do not reproduce without permission.