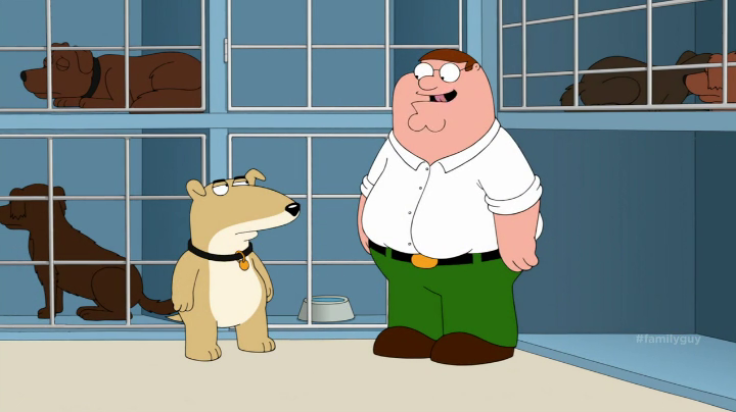 As for now, Brian Griffin's death on the hit animated show "Family Guy" seems to be real. Many were hoping the episode would end as a dream sequence or strange alternate reality but sadly it looks as if Brian is really dead. In an interview with E!, executive producer Steve Callaghan confirmed Brian's death saying, "Well, this was an idea that got pitched in the writers room and it sort of caught fire, and we thought it could be a fun way to shake things up. As soon as this idea came up, we started talking about what the next couple episodes could be and we got very excited about the way this change will affect the family dynamics and the characters."
Callaghan also added that the decision for killing Brian instead of the kids or parents seemed more in the realm of reality. Callaghan said to E!, "It seemed more in the realm of a reality that a dog would get hit by a car, then if one of the kids died. As much as we love Brian, and as much as everyone loves their pets, we felt it would be more traumatic to lose one of the kids, rather than the family pet." The executive producer also spoke a little bit of the new dog Vinny by comparing him to Bryan. "Oh they're very different. Brian was very smart and studious and intellectual, and Vinny is just a lot more of a rough around the edges." So what do we know about Vinny? Well from the episode we see a little of his personality and here is what we know so far.
RELATED: Brian Griffin Dead: Plus 9 Other Beloved TV Characters That Fans Still Mourn
1. The actor who plays Vinnie is Tony Sirico from "The Sopranos." In an interview with E! Online, executive producer Steve Callaghan revealed why he chose the actor to play the new dog. "I think it was Seth's idea actually to get Tony to come in. He's a big fan of 'The Sopranos' and always loved Tony Sirico in particular and he thought it would be fun to write a character based around his voice and his personality and just who he is as an actor."
2. Vinny is Italian and he might be a mobster, or ex mobster. When Peter initially meets Vinny he gives Peter his highlights on why he should adopt him and he tells Peter "maybe you throw a stick, and maybe I bring it back. Or maybe I bring back an iPhone that fell off the back of a truck." At one point Stewie tries to get the new dog to leave by telling him so much news about Italian Americans he goes into cardiac arrest.
3. Vinny is a Pussyhound. When Peter meets Vinny at the pet store and decides to take him home he asks the new dog what his breed is. Vinny tells him he is a Pussyhound. Peter excited exclaims, "All Right!" But Vinny reassures Peter that this only means he is one sixteenth cat. Of course this being the show it is, Peter is disappointed and tells Vinny he wishes he didn't tell him that.
4. Vinny cooks. In a scene when Vinny finally makes it to the Griffin house he offers to make the family dinner out of gratitude.
RELATED: Watch 'Family Guy' Season 12 Episode 6 Online: Who Will Die Tonight In 'Life Of Brian'? [VIDEO]
© 2023 Latin Times. All rights reserved. Do not reproduce without permission.