The pandemic has upended regular ways of being—weddings included. While many of us had wedding plans that barely materialized, a Baltimore woman wasn't willing to let it all slip away so easily. Sara Studley, who never really got to wear her wedding reception dress, pop champagne, and eat cake in glee on her D-day (thanks to the pandemic) last year, decided to put the gown to good use. Well, she wore it on the day she got a jab of the Covid-19 vaccine!
"I hadn't gotten gussied up in the past year, so I wanted to take this moment to celebrate for myself," said Studley, 39, to the Washington Post.
Unsurprisingly, the daring move grabbed eyeballs. Speaking of which, Julie Lefkowitz, the nurse who administered Studley's vaccination told the media outlet, "You don't see many people come in with white frilly dresses. I wanted to understand her story and be a part of it." Enthusing how Studley glowed in the retro-inspired A-line satin dress with a polka dot tulle overlay, she added, "She was super upbeat and excited, and you could just tell that she was trying to do her part to get the world back to normal. It definitely brought a lot of joy. We all need positive, and this is positive."
Studley, who was overwhelmed by all the positive responses that came her way, revealed that she had no idea that donning a wedding dress would bring forth as much joy.
"I was taking an opportunity to seize joy for myself, because I feel like that's something you have to actively cultivate when we're in the middle of a global pandemic," she said, in an interview with PEOPLE magazine. Studley maintained that it was indeed heart-warming to see people working at the vaccine site lighten up upon seeing her in a dressy outfit.
Studley and her then-boyfriend decided to tie the know amid a 100-guest wedding in San Diego. But, their grand plans came to a screeching halt due to the viral outbreak. The couple was soon left with no option but to settle for a smaller ceremony sans a reception. Almost a year later, Studley chanced upon an interesting idea on Twitter and got inspired. "It was an excellent idea," Studley said. "It resonated with me so much because things have been really dark and the idea of getting a vaccine is such a bright moment," she added.
While the coronavirus outbreak has dampened spirits, Studley believed it's upon each one of us to exercise caution responsibly.
"It's not a cure, it's not the end of the pandemic, but it's certainly an important turning point," she continued. "For me, personally, getting a vaccine means being able to hug my 81-year-old father without worrying, and going grocery shopping without worrying that I'm going to infect the workers."
Upon being prodded about what her next choice of outfit would be, Studley quipped that she has no clue and all she wanted is to bring some cheer in the face of gloom. "I should've done it for the second trip because now I've set myself up with an impossible task," she concluded.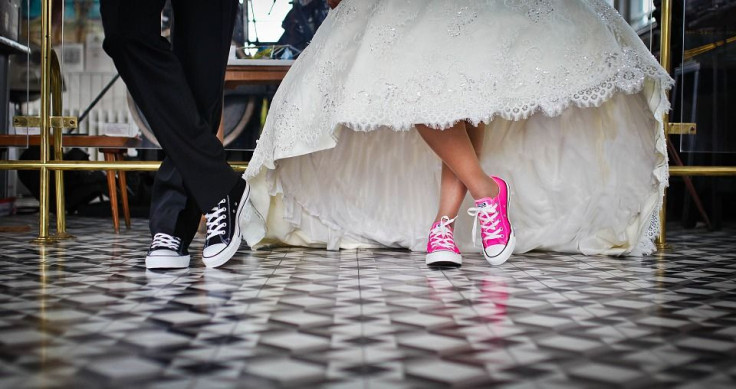 © 2023 Latin Times. All rights reserved. Do not reproduce without permission.