After a turbulent NBA offseason, it appeared the Brooklyn Nets were able to get things together. However this early in the 2022-23 wars, the team has been struggling with only a win to show.
Things just keep getting heated with Ben Simmons struggling to find his groove and fouling out early in games. There is also the case of Kyrie Irving, who is now under fire anew for the support he has been giving to an antisemitic film and book on his social media accounts, ESPN reported.
At the top of all this is Steve Nash who questions the desire and will of the team to win so far. He rued the lack of effort, particularly in the rebounding department when they played and lost to the Indiana Pacers.
"It was a disaster," Nash said. "How else do you say it? I didn't see the will. Didn't see the desire or the connectivity necessary to get stops and get rebounds."
In an exclusive interview by PTV Sports with decorated book author Roland Lazenby, the 70-year-old scribe gave his take on what could be going on with the Nets.
"Brooklyn, I think the players want to get their coach fired frankly. They are sort of playing the way that, you know, when players don't want to play for a coach. They just sort of go through the motions," Lazenby suggested. "I don't know if that is what's going on in Brooklyn, but it has a little bit of that smell to it."
Things do not appear to be going on smoothly over the Nets' camp and answers are needed.
Simmons shared how they had a players-only meeting to address their internal issues.
"We had a conversation that obviously I'm not gonna talk about. But it was honest," Simmons said to reporters. "That's what winning teams do--hold each other accountable, be able to be open and talk to your teammates, and respect that."
Kevin Durant rebuked the meeting and said it was nothing special.
"If it's a scheduled meeting or not, I think we all talk about what we need to do as a team every day. So regardless if it's after a loss or it's looked at as a 'meeting,' we're always in constant dialogue about what we need to do as a group. So I wouldn't say it was anything special," the former NBA MVP explained.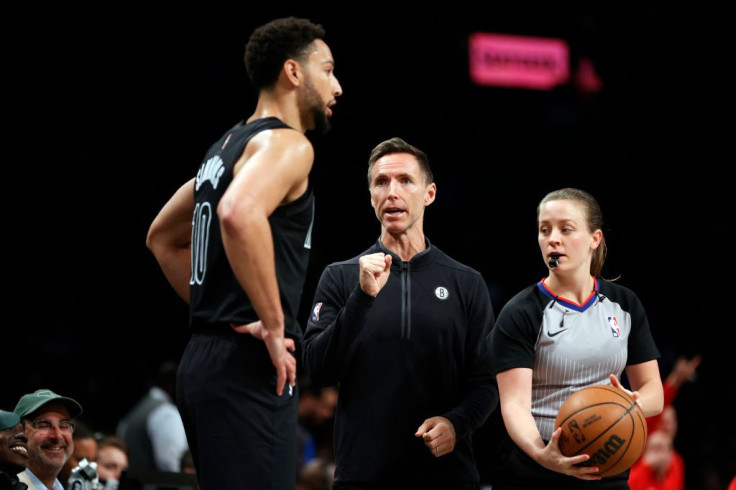 © 2023 Latin Times. All rights reserved. Do not reproduce without permission.