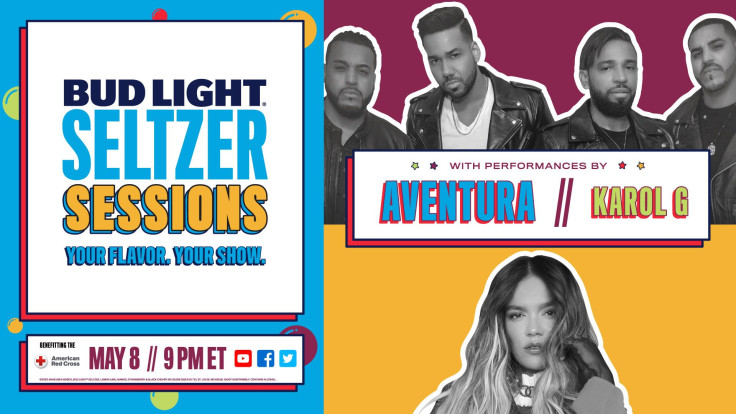 Bud Light introduces "Bud Light Seltzer Sessions: Your Flavor. Your Show." A weekly music event every Friday in May featuring iconic artists in the comfort of your home. Kicking off the series today Friday, May 8 at 9:00 PM EST are "The Kings of Bachata" Romeo Santos with Aventura and the number-one selling female Latin superstar KAROL G. Throughout the month of May, the brand is streaming shows each Friday night from the Bud Light YouTube channel all in benefit of the American Red Cross.
Romeo Santos and Aventura were set for their highly-anticipated reunion tour when their shows were unfortunately postponed, so Bud Light Seltzer is excited to bring fans this long-awaited reunion.
"Thank you, Bud Light Seltzer and Red Cross America for the initiative to bring some of our music to our fans and the general public, hoping it will be an oasis within these times that we are living, wishing that they are healthy and safe," said Aventura in Spanish. "God willing, see you in February 2021! Stay tuned to our social networks for more information."
Today's session will also include multi-platinum singer-songwriter KAROL G performing some of her biggest hits including "Tusa" which has over 800 million views on YouTube and landed the #3 position on Spotify globally.
"I'm so excited to be partnering with Bud Light Seltzer in bringing a digital performance to my fans around the globe. This from-home performance will help support the American Red Cross' ongoing relief efforts while we all continue to navigate through this challenging time," said the Colombian singer. "I hope you all are staying safe and healthy out there and looking out for one another. This Friday, get ready to swap out those quarantine sweatpants with your favorite weekend looks and prepare to sing, dance and party with me digitally!"
Shana Barry, Anheuser-Busch Music & Entertainment Partnerships added: "Bud Light has a rich history in music and we've successfully built a powerful platform known to bring fans together to enjoy a great show over a beer. Bud Light Seltzer Sessions is a continuation of that energy and with its virtual scale, we're reaching more fans than ever and delivering on what will be one of our most uplifting shows yet."
Fans can voice their opinions through the artists' and brand's social handles to choose about everything from what color the set should be, to which songs are on the setlist, and which flavor of Bud Light Seltzer to sip on between songs.
© 2023 Latin Times. All rights reserved. Do not reproduce without permission.