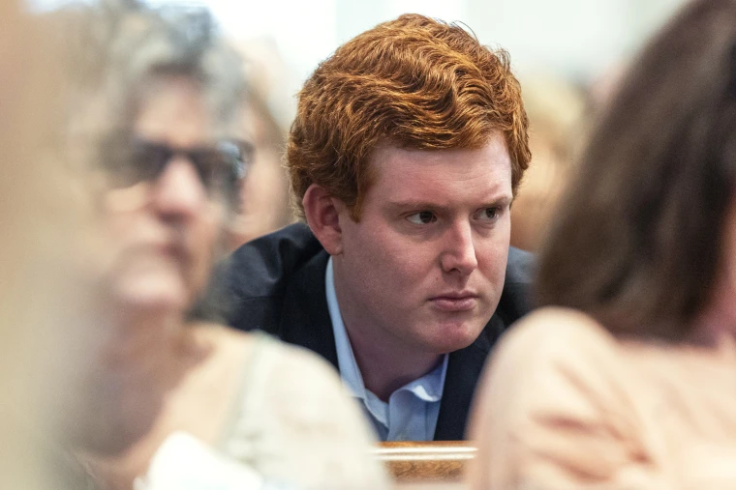 Buster Murdaugh, the surviving son of Alex Murdaugh, on Monday "unequivocally" denied "vicious rumors" that he had anything to do with the murder of a gay former classmate whom he had a romantic relationship with.
Buster Murdaugh, 26, made a statement for the first time as the body of Stephen Smith, 19, is set to be exhumed nearly eight years after he was strangely discovered dead in the road close to the South Carolina home where Alex later shot and killed his wife, Maggie, 52, and son Paul, 22.
"I have tried my best to ignore the vicious rumors about my involvement in Stephen Smith's tragic death that continue to be published in the media as I grieve over the brutal murders of my mother and brother," Buster Murdaugh said in a statement.
"I love them so much and miss them terribly," he mentioned the family members whose brutal killings his father is currently serving two life sentences for.
"I haven't spoken up until now because I want to live in private while I cope with their deaths and my father's incarceration," he continued, complaining about being "harassed" over his family's ever-deepening scandals, reports New York Post.
"This has gone on far too long," Buster said.
"These baseless rumors of my involvement with Stephen and his death are false," he mentioned the former high school classmate who Murdaugh allegedly dated, according to a recent Netflix special and reports from peers to police.
"I unequivocally deny any involvement in his death, and my heart goes out to the Smith family," Murdaugh said, asking people to stop spreading the "rumors."
The initial determination of Smith's death in July 2015, which occurred near the Murdaughs' Moselle estate, where Alex shot and killed his wife and son, was hit-and-run.
Just a few weeks after Maggie and Paul were killed, it was reopened "based upon information gathered during the double murder investigation," authorities said at the time.
Later, it was discovered that before local law enforcement informed Smith's parents about the death, one of Alex Murdaugh's brothers had called them.
Smith's demise has not been explicitly connected to any Murdaugh family members.
However, a Netflix original series titled "Murdaugh Murders: A Southern Scandal" claimed that "multiple" locals had addressed rumors that Buster had a romantic relationship with Smith.
"There were so many rumors swirling around that Buster and Stephen were intimate together," confirmed Morgan Doughty, 23, who dated Buster's brother, Paul, and was close to the family.
"Being gay in the Murdaugh family would have been looked down upon," she said.
Smith's mom, Sandy Smith, told the "Today" show Monday that she hopes an independent autopsy on her son's exhumed body will finally get some answers as to how he died.
"As a mother, there's questions that I need to ask. And there's questions I need answers to," she said, stressing that she has no idea who could be responsible.
"I want to know why you did it, and I want to find out who you are," she added, saying it would only help bring "peace, not closure" because "he's forever gone."
© 2023 Latin Times. All rights reserved. Do not reproduce without permission.