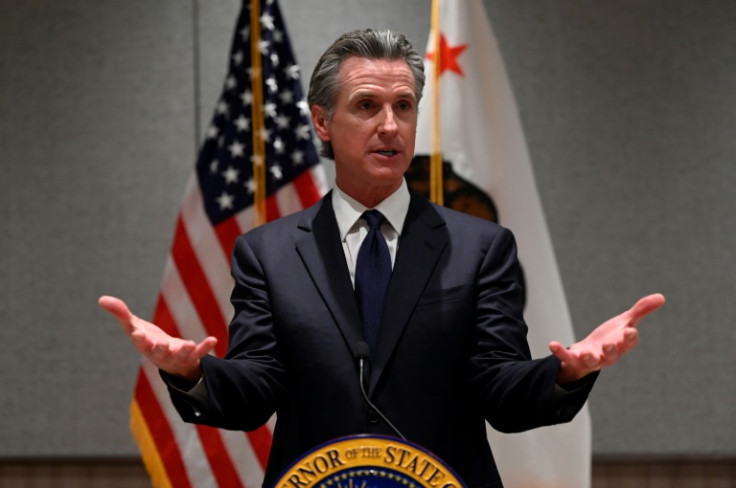 California governor Gavin Newsom said he spoke with Chinese President Xi Jinping on climate cooperation at a meeting on Wednesday in Beijing, the latest in a string of visits to China by US politicians.
The head of the US economic powerhouse state is on a week-long tour of China, which Newsom has said will focus on climate change.
"We are not going to move needles on climate change unless the United States and China collaborate together," the governor, who has long been touted as a future presidential candidate, told reporters after meetings with Xi and Foreign Minister Wang Yi.
China and the United States are the two biggest emitters of greenhouse gases.
Newsom arrived in the southern semi-autonomous city of Hong Kong on Monday, where he held a talk on climate change.
He then travelled to the neighbouring city of Shenzhen, which has pioneered the use of renewable energy in public transport, touring an electric bus station.
Newsom described his talks on Wednesday with Xi and Wang as "very productive".
"Not only the MOUs in the last couple days, but the fact that I'll be meeting with five governors tomorrow... engaging and advancing our collective efforts on low carbon green growth," Newsom told reporters, referring to memorandums of understanding signed with Chinese counterparts.
Newsom said he also raised the issue of human rights with Wang, and spoke with Chinese leaders about China's role in the fentanyl drug addiction crisis in the United States.
Washington has imposed sanctions on China-based firms for producing and distributing chemicals used to make fentanyl, though Beijing has insisted the root of the opioid problem lies in the United States.
"Governor Newsom's topics of discussion also included human rights violations and anti-democratic efforts in Hong Kong, Tibet, Xinjiang and Taiwan, as well as David Lin, a California pastor who has been imprisoned in China since 2006," the governor's office said in a statement.
Newsom's visit came amid a flurry of diplomacy between Beijing and Washington as the two sides seek to improve strained ties.
Xi met with a group of US senators in Beijing earlier this month, including Senate Majority Leader Chuck Schumer, and Foreign Minister Wang will pay a rare visit to Washington this week.
Wang will be returning a visit in June to Beijing by Secretary of State Antony Blinken, who was the highest-ranking US official to travel to China since 2018.
Blinken huddled for 11 hours with the top Chinese leadership including Xi. Diplomats say Wang will be expecting a similar meeting with President Joe Biden, who is in Washington this week.
Biden, who last saw Xi last November on the sidelines of G20 talks in Bali, has invited the Chinese leader to travel next month to San Francisco where the United States will host an Asia-Pacific Economic Cooperation (APEC) summit.
Newsom on Wednesday said of Xi's potential visit that he was "very hopeful that he makes it".