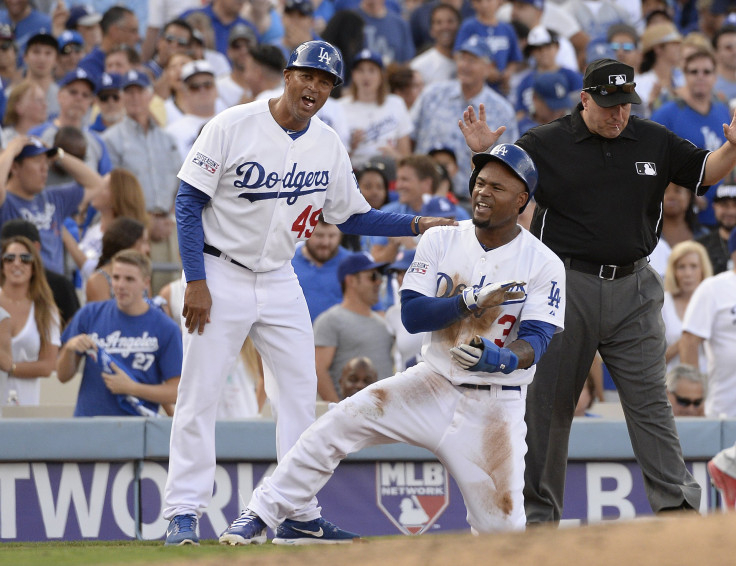 The Dodgers received some troubling news on Tuesday afternoon when they found out that outfielder Carl Crawford had suffered a torn oblique in Monday's 8-3 victory over the rival San Francisco Giants.
Injuries are mounting for Los Angeles who are already without closer Kenley Jansen, setup man, Brandon League, Brandon McCarthy and Yasiel Puig. But there's good news Dodgers fans, help from Havana is on the way…
Crawford's injury which is expected to sideline the star outfielder for at least two months opens the door for hot-hitting Cuban slugger Alex Guerrero who the Dodgers have been secretly working in left field and openly trying to find more playing time.
"It does open the door a little bit," said Dodgers manager Don Mattingly of Guerrero. "Scott Van Slyke is more of an outfielder but we've going to have to find at-bats for Alex [Guerrero] the way he's been swinging the bat.
Guerrero is batting .500 in just 22 at-bats for the Dodgers and is second on the team in homer runs (5), RBIs (13) and has 11 hits. What makes Guerrero's stats all the more remarkable, he's only struck out one time in 24 plate appearances.
The Dodgers were once deep at the outfield position and an injury such as this would be nothing more than a slight scratch on their armor. However, a winter trade that sent Matt Kemp south on the I-5 to the San Diego Padres and a hamstring injury to Puig now has Los Angeles scrambling to field an outfield that once had too many bodies and not enough opportunities.
Crawford was placed on the 15-day disabled list on Tuesday and Enrique Hernandez was called up from Triple-A Oklahoma City to take his place on the 25-man roster.
"It's pretty bad," said the 33-year old Crawford before Tuesday night's game, which features a rematch between the game's two best pitchers, Clayton Kershaw and Madison Bumgarner.
The Dodgers did not announce a timetable for Crawford's return, but typically oblique injuries of this nature can carry a six to eight week recovery period, often longer depending on the severity. With injuries mounting, Guerrero will now have an opportunity to showcase his talents and earn a permanent spot in the Dodgers starting lineup.
© 2023 Latin Times. All rights reserved. Do not reproduce without permission.