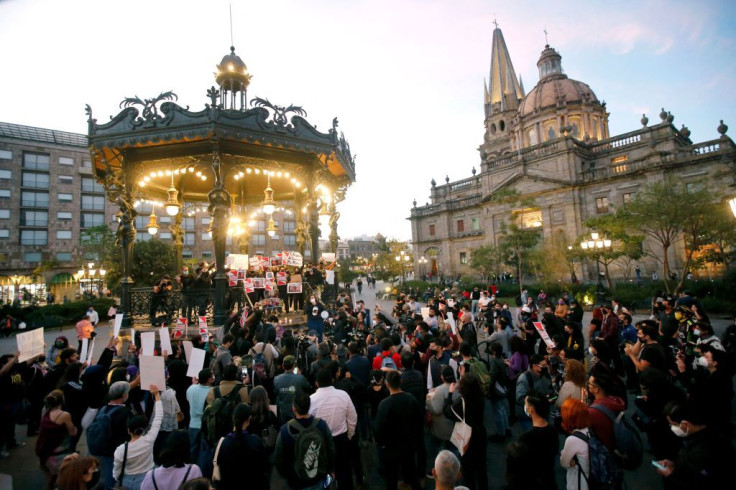 July becomes Mexico's second-most violent month of the year as cartel-related brutality fills the streets of Tijuana. On record, 23 murders were reported in the closing days of the month, tallying the body count to 188 for July alone as triple murder greets the final day of July, alongside a gruesome discovery of a severed head and a sinister message left beside the victim's decapitated body.
Cristian Alexis Luna, 27, Ricardo Aguirre Rodríguez, 25, and Gary Michael, 31, the three victims of the triple murder were outside a home in the Libertad neighborhood when they were shot to death. Eye-witness reports claim the killers were seen fleeing the scene of the crime in a van. Police investigators also found around 30, 9mm shell casings all over the scene as well as two vehicles plastered with bullet holes.
On the other end of the city, in the Presidentes suburb, a decapitated head accompanied by its handcuffed corpse was found covered in a blue tarpaulin, with an ominous warning written on a sheet of cardboard left by the victim's executioner. Simultaneously, another cartel threat was discovered nearby on yet another decapitated corpse of a supposed gang member.
The violence didn't cease with the end of July, as four more murders greeted the opening hours of August. Two women were shot - one in front of a church on Baja California Street in the Infonavit Lomas del Porvenir neighborhood.and the other, found dead, on Illimani Street in the Cumbres neighborhood. A man was also found dead in the Residencial del Bosque neighborhood, in the early hours of August 1
According to the Border Report, a total of 882 homicides have been recorded this year in Tijuana alone, putting the city in a state of absolute terror. Despite the brutality and widespread violence of current events, police have yet to make any official arrests.
Meanwhile, another prominent Mexican journalist was killed Tuesday night at a bar shooting in central Mexico. This makes for 13 murders of media workers this year alone as violence continues to grip the streets of Mexico and the lives of its journalists, Al Jazeera reported.
Governor for Guanajuato Diego Rodriguez expressed his condemnations on the killing of Ernesto Mendez, who was shot by a group of men who stormed the bar owned by Mendez located in San Luiz de la Paz. Mendez is the director of a local media outlet, Tu Voz, who reportedly has received previous threats common to most journalists who have become easy targets of suspected small town officials and politicians linked to organized crime groups.