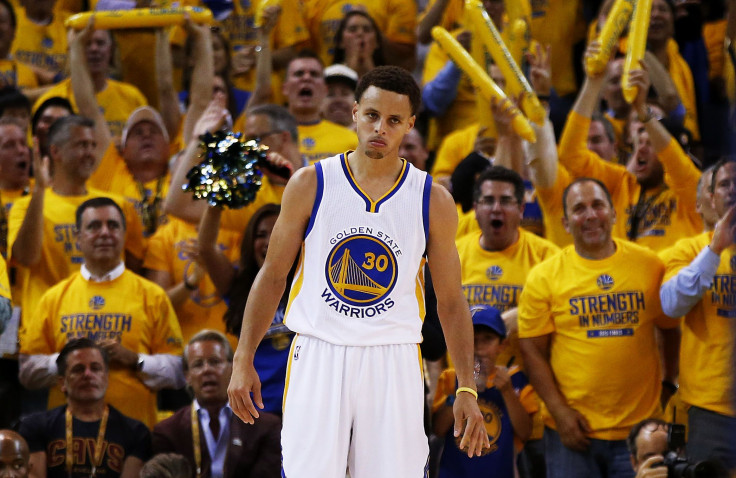 OAKLAND, Calif. – LeBron James scored a career NBA Finals high 44 points, but it was not enough as the Golden State Warriors survived Game One, 108-100 on Thursday.
LeBron dominated the game for four quarters, but the Cavaliers could not score in overtime and the Warriors were able to pull away in the extra session.
LeBron's layup with :08 seconds remaining was the Cavaliers only basket in overtime, and by then the outcome was already decided.
Steph Curry led the Warriors with 26 points, eight assists and hit four huge free throws in the extra period to put Golden State in control. His "Splash Brother," Klay Thompson, chipped in 21 points.
Andre Igoudala scored 15 points off the bench and more importantly was assigned the task of guarding LeBron during the fourth quarter and overtime.
The score was 98-98 at the end of regulation and five extra minutes was necessary to find a winner in Game 1 of the 2015 NBA Finals.
Most experts predicted that the Golden State Warriors would win Game 1 and the series. However, the Warriors came out sloppy as nerves appeared to get the better of them to start the game. The Cavaliers jumped out to an early 14-point lead before regaining their composure in the second quarter.
The Cavaliers ran isolation play after isolation play for LeBron James as the forward scored 44 points, with eight rebounds and six assists in his fifth consecutive NBA Finals appearance.
Tristan Thompson had just 2 points, but 14 rebounds including 5 big boards on the offensive glass. Iman Shumpert locked down Curry on defense. The former New York Knicks guard had four steals and a block in his first taste of the NBA Finals.
Cavs point guard Kyrie Irving was a question mark to start the game, but he suited up and played well despite not being 100 percent. Irving scored 23 points, seven rebounds and six assists despite Thursday being just his third game played since May 14th.
Irving limped off the floor and headed to the locker room with 1:56 remaining in overtime. He grimaced in pain as he hobbled to the locker room and did not return to the court.
Game Notes:
Singer Rihanna, San Francisco 49ers running back Reggie Bush, and Los Angeles Lakers legend Magic Johnson were all courtside for the game.
Please refresh this page for more updates, stats, and player reactions…
© 2023 Latin Times. All rights reserved. Do not reproduce without permission.