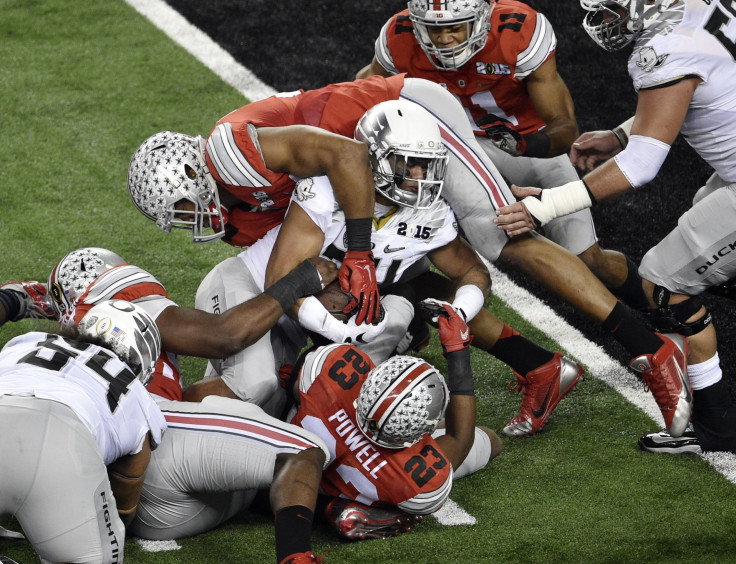 ARLINGTON, TX – The Oregon Ducks are in trouble in Texas. After an opening 80-yard touchdown drive to start the game, the Ducks have dismantled over the duration of the first half against the underdog Ohio State Buckeyes. Cardale Jones has been ferocious in his third game as the Buckeyes starting quarterback throwing for 171 yards and a touchdown while rushing for 44 yards and a touchdown. He has out "Marioted" Heisman trophy winner, Marcus Mariota, and has Ohio State up 21-10 in the locker room.
Ohio State has done a tremendous job taking away Oregon's high-octane offense, especially the running game. However, the Ducks are deliriously giving this game away as they have gotten a case of the "drops" in the first half.
With Oregon up 7-0 and driving into Ohio State territory, freshman wide receiver, Charles Nelson, dropped a wide open pass on 3rd down and 3 that would have given the Ducks a first down.
After Ohio State answered to tie the game, the Ducks stopped themselves for the second consecutive drive on another dropped pass. On third down and 12 from their own 28-yard line, Mariota found a wide-open Dwayne Stanford down field for what would have been a 50-yard gain on a crucial 3rd down. Stanford dropped the deep pass however and Oregon once again walked away with no points.
Thus far, Cardale Jones has outplayed his counterpart Mariota and the Buckeyes strength and speed has handled the Ducks tempo and pace to perfection. Oregon heads into halftime trailing by their largest margin all season. Ohio State knows the Ducks are a second half team, and the next half hour of football will decide who lifts the National Championship trophy. Stay Tuned.
© 2023 Latin Times. All rights reserved. Do not reproduce without permission.