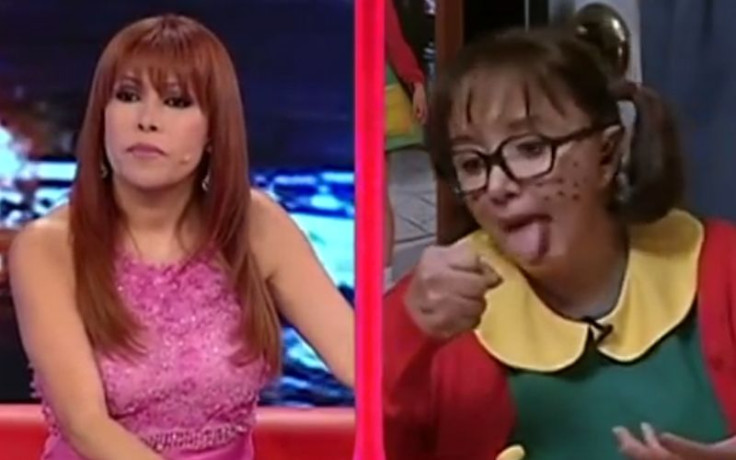 "La Chilindrina" has taken Chespirito's death to make the press rounds again and dig up some old dirt. It's no secret that at the time of his passing María Antonieta De Las Nieves and Roberto Gómez Bolaños were not in good terms and didn't make up after a legal dispute over the "Chilindrina" character. The actress was a guest on Magaly Medina's show in Perú via satellite and made some strong allegations against Florinda Meza, that confirm long standing rumors that have been passed down for decades. Magaly is known to be controversial and pressed "La Chilindrina" to give her some dirt and spill the beans about Florinda. "I'm going to tell you one thing," De Las Nieves said. "This is something that Chespirito's first wife taught me, 'when you can't say something good about a person, it's best to not talk.'"
Not getting the reaction that Magaly wanted, she insisted on the issue and said, "you know that it's something, that I personally believe, it's something you can't do. I think that married men are sacred." She was referring to Chespirito leaving Graciela Hernández, his first wife, for Florinda. This is when La Chilindrina responded and said, "his wife was an older woman, Chespirito's age, but she was beautiful." Magaly reminded María Antonieta that it was because of Florinda that her friendship with Chespirito ended. She then later revealed that Florinda had an affair with Kiko when he was still married and she was also with producer Enrique Segoviano. What do you think of these reveleations? Was it La Chilindrina's place to make these allegations? Watch the complete interview down below and tell us what you think!
© 2023 Latin Times. All rights reserved. Do not reproduce without permission.