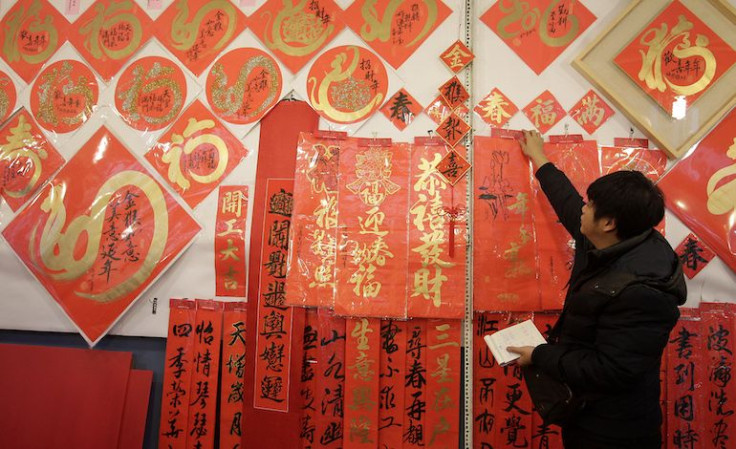 Each Chinese New Year is characterised by one of 12 animals which appear in the Chinese zodiac. The Chinese zodiac is divided into 12 blocks (or houses) just like its western counterpart, but with the major difference being that each house has a time-length of one year instead of one month.
This year it's the Year of the Monkey, the ninth animal in the cycle. The new year, according to the Chinese calendar, begins on Feb. 8 and ends Jan. 27, 2017. The next Year of the Monkey will be in 2028.
Chinese New Year messages and wishes are not just for your loved ones in China, but for all those whom you care for. Express you affection and happiness with these 15 Chinese New Year messages and wishes:
"This year ahead presents you new horizons, fresh opportunities and new hopes. Seize the opportunities and make the most of the Chinese New Year of the Monkey."
"This New Year may good luck and prosperity follow you wherever you go and may (lady luck) scare away any misfortune that was planning to come your way."
"As you step into the Chinese New Year of the Monkey, you may find God's blessing guiding you through the limitations and helping you rise higher above the weaknesses."
"Τhis is where we showcase cultural hοlidays such as Ηanukkah, Κwanzaa, Chinese Νew Year and Τhe Winter Sοlstice."
"Fun, joy, happiness, peace, love, luck, will come near with my special wish. Happy New Year!"
"The New Year is telling us, do not cry for the old year, opportunities are looking at us, grab them and forget your fear!"
"May you have the pockets of happiness, that will attract all the good wishes, this year, I am putting first wish in it by wishing you a very Happy New Year."
"A lot of people, they get all caught up in the New Year's resolution thing and I think it gives them an easy way, later, to say, 'Oh, that was just a New Year's resolution' and not take it seriously. People who really want to make changes can make them any day of the year, whether it be the Jewish New Year, the Chinese New Year or any day that suits them. You've got every day of your life to make changes."
"Let us welcome the New Year, give the happy adieu to the old, start the new beginning without fear and cherish the memories we hold!"
"To end something old, will start something new, wishing you with mighty heart, through the words are very few!"
"You have stood by me valiantly through another year of hardship and disappointments. Never complaining even when I was failing. I love you and I mean it. Happy New Year, thank god we have made it."
"I love you friend for you are a strong person and have always been there for me. It shows how much you love me and I appreciate you being there. Happy New Year!"
"As spring is around, good fortune abounds. As season progress, your longevity increases. A charm to insure prosperity and long life."
"May wealth always come your way. May it be auspicious and as you wish. A charm to bring satisfaction and happiness year by year!"
"God bless you with supreme courage and strength to turn the stones, as thrown in your life's path, into milestones of prosperity and success."
© 2023 Latin Times. All rights reserved. Do not reproduce without permission.