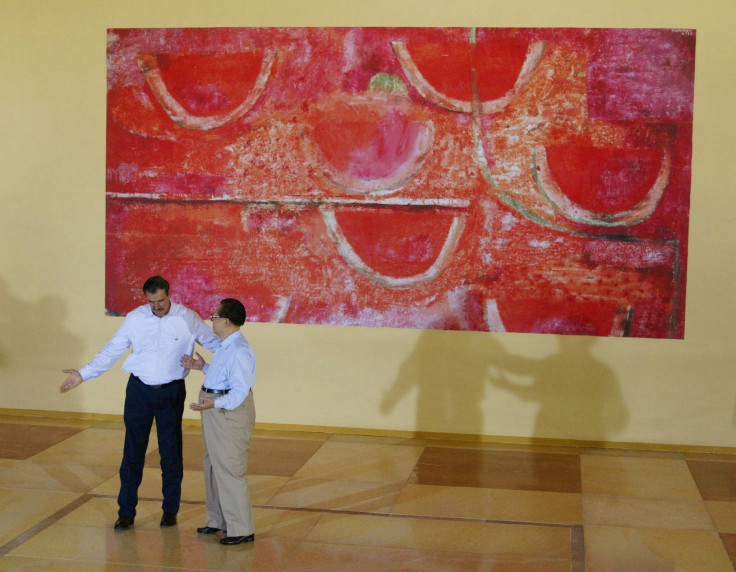 Last Monday night, Christie's and Sotheby's Evening Sale of Latin American Art in New York totaled $20,176, selling 80 percent by lot and 85 percent by value. Out of the 16 countries represented, the strongest sell through went for artists from Mexico, Cuba, Colombia and Chile with five pieces selling at $1MM and over. The sale was by far led by Mexican painter and muralist, Alfredo Ramos Martínez's, 'Mujeres con flores' selling for $2,741,000. Additionally, Botero's 'Adam and Eve', a bronze sculpture of a corpulent and nude man and a woman, fetched $2.57 million. The sculptures, coated in a dark brown patina, stand nearly 3.6 meters (12 feet) tall.
Other pieces that lead the sale included Rufino Tamayo's 'Sandías' which doubled its pre-sale estimate and sold for $1.7MM; Juan Manuel Blanes' 'Aurora' sold at $905,000 setting a new record for the Uruguayan artist.
Also part of the evening's auction was Sotheby's with the collection of Mexican tycoon Lorenzo Zambrano, who led global cement company Cemex until passing in May this year at age 70. On that side, Mexican surrealists Remedios Varo and Leonora Carrington led the sales with pieces such as Varo's Varo's 1960 'Hacia la Torre', which sold at $4.31MM and Carrington's 1945 'The Temptation of Saint Anthony' at $2.63MM.
Sotheby's Latin American art chief, Axel Stein, said, "There was more interest in them because the bidders were interested in Surrealism as a field; they didn't care where the artist was from."
© 2023 Latin Times. All rights reserved. Do not reproduce without permission.