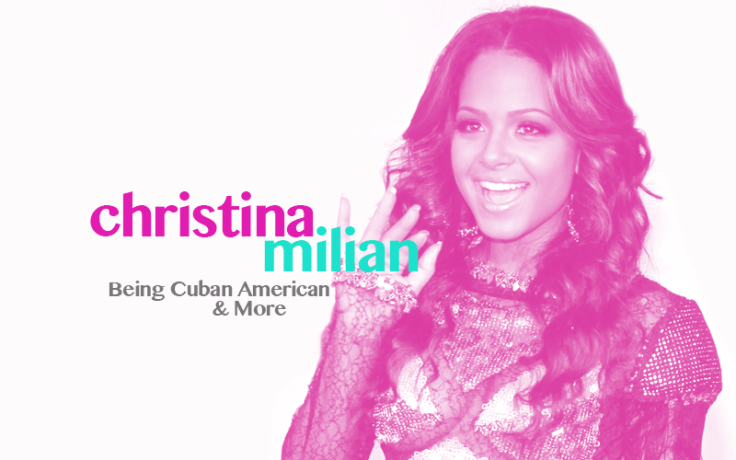 As a celebrity, Christina Milian may be known for her beauty, but there's more to the Latina -- She's got Cuban roots! -- than being in the limelight. The American actress and singer-songwriter was signed on by Def Jam at the young age of 19 and will soon be starring in her own reality show on E! called "Christina Milian Turned Up."
We could write a lot about Milian, but her effect on fans can be summed up in one anecdote: When Latin Times got the opportunity to interview Milian, half the staff gasped and a conversation ensued about what everyone's favorite Christina Milian song is. "Dip It Low is my anthem," squealed one reporter, while another insisted "AM to PM" was the best song ever.
During our conversation, Milian shared how proud she was of her Cuban roots and how she made sure to preserve them while growing up in the United States. One of the key methods she used was through food -- Milian revealed that the flavor of food at her house was better due to her ethnic roots and credits her mother for always cooking regional dishes. To learn more about the talented singer, check out our interview below:
Latin Times: You have a reality TV show ("Christina Milian Turned Up") coming out soon -- can you tell us what fans can expect?
Christina Milian: It's about my crazy life. It's about me and my Cuban family -- my mom and my sisters. The majority of us are young mothers and we are all young entrepreneurs. It's time for my sister to come out of the shadows and not just be "Christina Milian's sisters." They're beautiful girls figuring out their lives and what they want to do with themselves. This is an opportunity for people to follow them and their journey, and at the same time, also follow me and my stages of making an album. It shows me really taking over my independence and taking more control of my career.
LT: What was the idea behind being a part of a reality show?
CM: It's a new adventure. Especially for me because for so many years I've been used to things being one way because of family and other factors. But at the end of the day, I have to find my own happiness. My family has taken me this far, and now I'm trying to build a legacy and I don't want to be stagnant and I want to conquer my fears.
LT: You've had a great musical career thus far, when can fans expect a new album?
CM: I'm showing that all on the show. We're setting up to film a video for our single. We'll be incorporating fans -- there will be a contest -- and letting them choose the single and give us their thoughts.
LT: Being a celebrity, there are a lot of rumors that surround your love life (and life in general). How do you handle that?
CM: I can wake up every day and there's something being said about me. But I've been doing this so long that I can handle it. It goes back to middle school or high school days where they say, "If they ain't talking about you then you're not doing something right." (Laughs) I don't pay attention to comments cause you can't get caught up with that stuff cause it's negative most of the time. It's your life, at the end of the day, so you have to live for you and not for anybody else. As long as you're doing what's right for me and my daughter -- I don't do anything that doesn't make me happy -- then I know I'm on the right path. My family and my friends are more affected sometimes and I am the one calming them down. For me, I don't take it personally.
LT: How do you keep your daughter in touch with her Latina roots?
CM: She speaks Spanish so that's one thing. We practice Spanish with her because these early years are the most influential. The other component is food! We cook Cuban food and we sit around the table and eat as a family. And we also talk about our family and where we come from, and we still have one living grandparent (our grandma) so we gather enough stories from where they came from and share it with her.
© 2023 Latin Times. All rights reserved. Do not reproduce without permission.