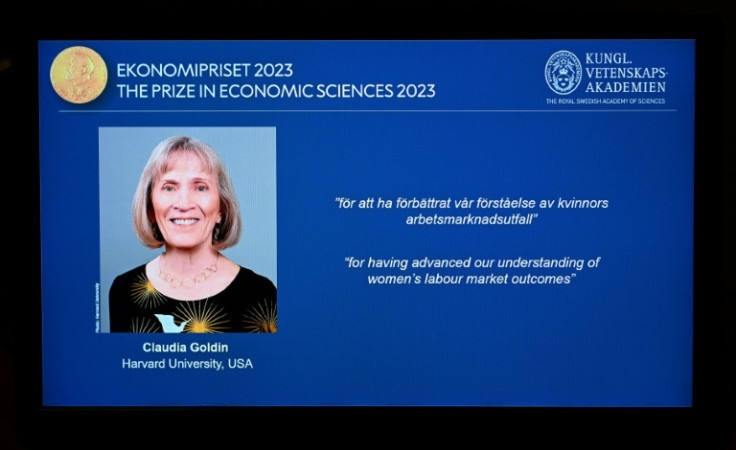 The Nobel Prize in Economics for this year has been awarded to Harvard Professor Claudia Goldin for research regarding the gender gap in the labor market, an issue that particularly affects Latinas in the U.S and across the globe.
Goldin's work took her through 200 years of women's participation in the workplace. It showed that, despite continued economic growth, women's pay did not catch up to men's and that the divide exists even in cases where women have gained higher levels of education than men.
"I've always been an optimist. But when I look at the numbers, I think something has happened in America, that we, in the 1990s, our labor force participation rate for women was the highest in the world, and now it isn't the highest in the world," Goldin told The Associated Press. Goldin is only the third woman to ever gain a Nobel in Economics out of 93 laureates.
The award announcement came only four days after Latina Equal Pay Day, which seeks to shed light on the demographic's gap. The day fell on October 5 because it marked the 22 months for a Latina to work in order to earn what a White, non-Hispanic man earned last year. In fact, Latinas stand to lose more than $1.2 million over a 40 year career due to the staggering wage gap, according to a report by the National Women Law Center.
In 2022, a Latina working full time made 57 cents for every dollar earned from a white, non Hispanic male and Part-time workers only make 52 cents for every dollar paid to white non-Hispanic men, NWLC reported. This pay gap amounts to a loss of $2,538 a month and $30,450 every year. The NWLC report suggests that the annual amount lost due to wage gap could pay for nine months of child care, six months of rent payments, and 14 months of family groceries.
Goldin's research did not offer concrete solutions for the subject. But, according to economist Randi Hjalmarsson, a member of the Nobel committee, it helps policymakers address the issue with better tools.
"She explains the source of the gap, and how it's changed over time and how it varies with the stage of development. And therefore, there is no single policy," Hjalmarsson said. "So it's a complicated policy question because if you don't know the underlying reason, a certain policy won't work." However, "by finally understanding the problem and calling it by the right name, we will be able to pave a better route forward," Hjalmarsson said.
© 2023 Latin Times. All rights reserved. Do not reproduce without permission.