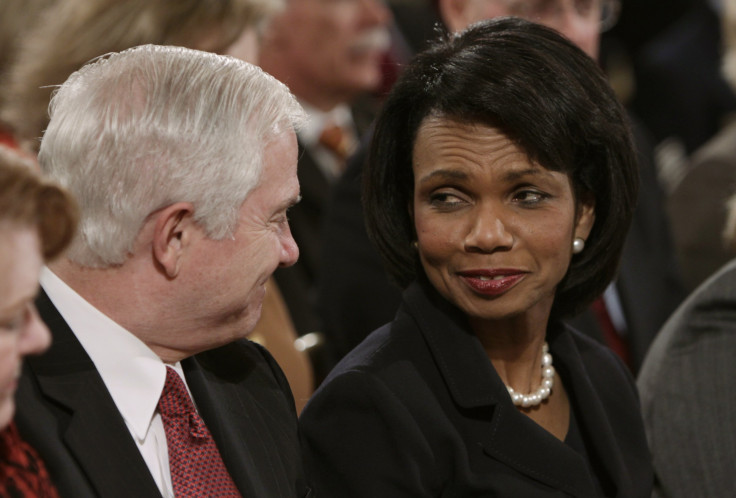 Dr. Condoleezza Rice understands Alabama Gov. Robert Bentley's concerns about the federal resettlement program, she just doesn't agree with them. Speaking from her experience as George W. Bush's Secretary of State, Rice hoped aloud that the U.S. would accept Syrian refugees instead of working to "keep them in camps" as some Republican lawmakers have proposed, AL.com's Charles J. Dean reports. Her comments come on the heels of a Republican backlash in the House and in governor's mansions across the country.
"What the United States has done is to be open to people who are fleeing tyranny, who are fleeing danger, but we have done it in a very careful way that has worked for us," said Dr. Rice, who spoke a few feet from Gov. Bentley.
The governor is one of the more than 20 state leaders who have pledged not to cooperate with Syrian refugee resettlement citing security concerns. He has called the current refugee screening unsafe, though asylum seekers face much tougher checks than other visa applicants.
Dr. Rice added that in her four years as secretary the U.S. welcomed around 67,000 refugees. Bentley is concerned about a White House plan to bring 10,000 Syrian refugees to the U.S. following reports that a migrant from that country may have been involved in the Paris terrorist attacks that killed over 120 people on Friday.
"I fundamentally understand that you in a position of authority, like you governor and others, in addition to having compassion for others you have to be safety conscious for your people," Dr. Rice said, addressing Bentley directly.
In the Q&A session, Rice also called on the president to defeat ISIS, saying that the U.S. needed to make migrants safe in their own country. Dawn Kent Azok first reported the story for AL.com.
"We cannot sustain the number of migrants flowing into Europe," she said. "We must stop the flow by making them safe in their own homeland."
© 2023 Latin Times. All rights reserved. Do not reproduce without permission.