U.S. health officials are urging the public to use cloth masks when going out in public and reserve medical-grade masks for frontline healthcare workers and medical first responders. Earlier this month, the Centers for Disease Control and Prevention released guidelines on making face masks out of fabric, which also offers a bit of protection amid the coronavirus pandemic.
According to the CDC, wearing cloth face masks in areas of significant community-based transmission helps prevent people from unknowingly spreading virus to others. The agency recommends wearing this type of mask as a voluntary public health measure in addition to following local social distancing guidelines.
Making a Face Mask with Fabric
To sew a cloth face mask, you will need two 10-by-6 inch rectangles of cotton fabric, two 6-inch pieces of elastic, a needle and thread, scissors, and a sewing machine.
First, place the two rectangles on top of each other.
Fold over the long sides ¼-inch and hem, then fold the double layer of fabric over ½-inch along the short sides and stitch down.
Run a 6-inch length of 1/8-inch wide elastic through the wider hem on each side of the mask using a needle or bobby pin to thread it through, then tie the ends together tightly.
Pull on the elastic and tuck the knots inside the hem. Gather the sides of the mask on the elastic and adjust according to the size of your face.
Stitch the elastic in place to prevent it from slipping.
The CDC also recommends using an old t-shirt if fabric or a sewing machine is not available at home. To do this, just cut around 7 or 8 inches off the bottom of the shirt, then cut a rectangle around 6 to 7 inches long lengthwise across it. Cut the fabric along the hem to make strings that you can tie around your head, then voila! You now have a face mask made of t-shirt.
Although the coronavirus is too microscopic to be trapped by most fabrics, it is most transmissible when stuck to much larger water or mucus droplets that come out of the mouth or nose when someone coughs, sneezes, or talks. According to the CDC, a homemade mask that uses two layers of tightly woven cotton fabric is enough to block those droplets.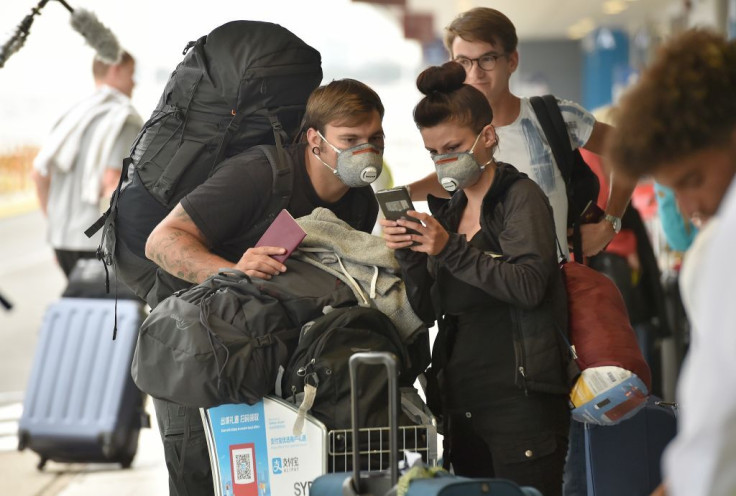 © 2023 Latin Times. All rights reserved. Do not reproduce without permission.