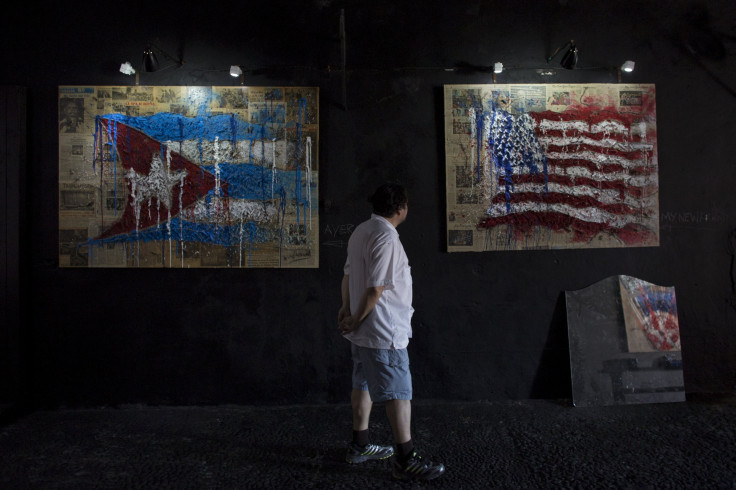 U.S. and Cuban negotiators were unable to achieve their short-term goal of reopening embassies this week after their latest round of talks. It was the fourth round of negotiations between the two delegations since both countries agreed to normalize relations last fall. A senior state department official hinted today that the U.S. might make pragmatic adjustment to it's Cuban propaganda programs in order to make embassies a viable option. The largest hurdle towards embassies was resolved a few weeks ago when President Obama announced that he would remove Cuba from a state terror list.
That decision, which will go into effect in June, has paved the way for the Cuban government to operate the day-to-day logistics of running an embassy. On the terror list, U.S. banks were banned from doing business with Cuban officials. With removal from the list right around the corner, news broke on Wednesday that Cuba will have a bank account with Stonegate, a Florida-based company. That means that potential Cuban consulates won't have to operate in cash (a bad idea, as one State Department official had acknowledged).
"We hope this is the initial step to normalize banking ties between the two countries, which will benefit American companies wanting to do business in Cuba, as well as the Cuban people," Stonegate CEO Dave Seleski said in a statement.
On Friday, a Senior Department official acknowledged that diplomatic access is a key remaining hurdle in the ongoing negotiations. U.S. officials want their consular officials to have unfettered access to Cuban citizens, including permission to freely move around the country. Currently, U.S. representatives have to receive permission from the Cuban government or even travel with state minders. Cuba, meanwhile, wants the U.S. to scale back its propaganda efforts. For decades, the State Department has funded journalist training programs, an anti-Castro radio station, and other efforts to empower Cuban dissidents against the government.
"We've been very clear that we've continued to request funds from congress for various activities in support of Cuba people but [...] we are constantly looking at how to make them effective [...] you have to look at the environment, you have to look at how you can provide support for people," Roberta S. Jacobson, a senior State Department Official leading the U.S. delegation to Havana told Univision on Friday, in response to question about curbing pro-democracy programs.
Reading between the lines, Jacobsen is reserving the Administration's right to modify or cut back on current programs if it means a net gain in access to the Cuban public. That brand of pragmatism as already angered conservative legislators who see current negotiations as a win for the Castro regime. Republican presidential candidates such as Sen. Marco Rubio (R-Florida) have already made Obama's relationship with Cuba a major topic in their campaign speeches.
Jacobson slinked away from questions asking for measurable progress in the talks saying that they have been "highly productive" and that the delegations are "much closer to normalizing relations and reopening embassies."
Her Cuban counterpart, Josefina Vidal, was similarly tight-lipped.
"We exchanged views on every aspect related to the functioning of the embassies and the behavior of diplomats," she said. "I won't mention in detail the positions we took and discussed because these are being discussed at diplomatic levels."
More talks are expected soon.
© 2023 Latin Times. All rights reserved. Do not reproduce without permission.