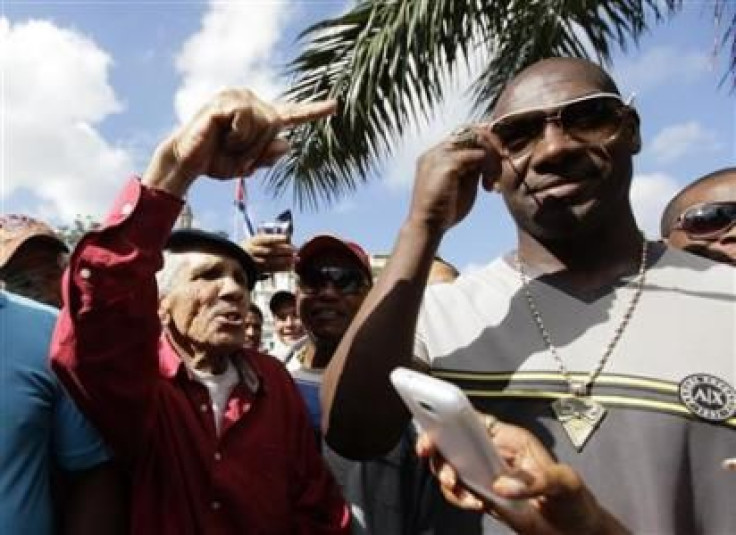 (Reuters) - A decade after he defected to the United States to play Major League Baseball, Cuban pitcher Jose Contreras has returned to his homeland in the first test of the island's liberalized travel laws.
He was welcomed on Tuesday at Havana's Hot Corner, a mecca for baseball fans, by about 200 people who crowded around to get photos and autographs from the lanky right-hander.
Contreras, 41, signed baseball caps, dollar bills, Cuban money and a woman's dress as he mixed happily with his fellow countrymen in an emotional return home.
"After 10 years, I've had the opportunity to come back to Cuba, to my land, my country, and it's like a dream come true to be here with my family, with my fans," Contreras told Reuters in an occasionally tearful interview.
Before January 14, when new travel regulations went into effect, high-profile defectors such as Contreras were effectively barred from returning to Cuba, but now they can return if they have been away for at least eight years.
Much to the chagrin of Cuban officials, many Cuban athletes have left the country over the years to cash in on their sporting prowess.
Contreras was in Mexico playing for the Cuban national team when he defected in 2002 and signed a four-year, $32 million contract with the New York Yankees. He went on to pitch for the Chicago White Sox, Colorado Rockies and Philadelphia Phillies.
Contreras was the first big-name athlete known to have tested the new law, returning to Cuba from the United States a few days ago, driven not only by a desire to see his homeland, but to be with his 77-year-old mother Modesta Camejo, who is ill.
THANKFUL TO COMANDANTE
Camejo, wheelchair-bound after surgery to amputate one of her legs, told Reuters she was grateful to former Cuban leader Fidel Castro for the change.
"I am very thankful to the Comandante who gave (us) that law," she said at a beach house near Havana where the family was staying. "Now things are different."
The law is part of wide-ranging reforms enacted under President Raul Castro, who succeeded older brother Fidel as president in 2008. Many Cubans still think of the elder Castro as Cuba's leader.
The change also allows Cubans to travel abroad without need of an exit visa for the first time since the government imposed restrictions half a century ago to stanch the flow of people fleeing the country after the 1959 revolution.
Contreras, who played for the Phillies last year but is currently a free agent, wears two bejeweled rings, one of them for the White Sox' World Series in 2005 and another for the Yankees' 2003 American League championship.
Before defecting, he was a star in Cuban baseball and a favorite of Fidel Castro for helping the Cuban national team win gold medals in the 1996 Olympics and the Baseball World Cup in 1998 and 2001.
At the Hot Corner, where people gather in Havana's tree-shaded Parque Central to loudly discuss baseball, there were no hard feelings against Contreras for leaving the island and its paltry average monthly salary (equivalent to $20) to make his fortune.
Contreras smiled broadly as the crowd, mostly men, chanted his name.
"It makes us immensely happy that Contreras is here in Cuba, his land, the country where he was born, a place he defended in other moments. The decision he has made is very personal and it has to be respected," said Miguel Diaz, who wore a red cap with the New York Yankees emblem.
Contreras said he was pleased to be home after so many years away and hoped that other exiled Cuban athletes would follow in his footsteps and visit the island.
"I am very happy, very happy for me personally and for all the other guys, all the people outside of Cuba, who can come back and be here again in the homeland," he said.
(Editing by Kevin Gray and Stacey Joyce)