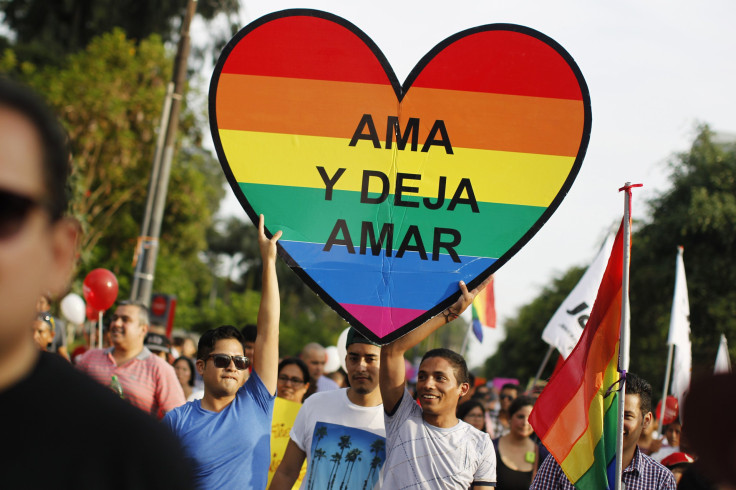 Homophobes trying to "cure" LGBT people are hitting a new low in Peru, where lesbians are being subjected to "corrective rape" in order to "cure" them of their sexual orientation. While there's aren't reliable statistics on the phenomenon, a report by the BBC has uncovered anecdotal evidence of corrective rapes and what appear to be "well-intentioned" sexual assaults. The horrendous idea of "curing" lesbians through forced sex isn't an isolated phenomenon, just as the concept of "curing" LGBT people through therapy hasn't been abandoned in the U.S. In South Africa, rape as "correction" and as punishment have been well documented.
Particularly unnerving in the Peruvian cases reported by BBC World's Leire Ventas is the involvement of family members. One lesbian activist in Peru was raped by her uncle, according to Marxy Condori, who described herself as a friend of the victim and gave Ventas a second-hand account of the incident. She said that the family of the victim pressured her to not file charges. In another case, an Arequipa woman named Kattia Montenegro said that she was threatened with rape by her own sister when she was 21-year-old. That case is well-documented and has made its way through court.
"The first time my sister threatened me with corrective rape I was scared," Montenegro told the BBC.
Her sister was later ordered to pay damages and submit herself to treatment by a psychologist, according to the report.
Ending "Gay Conversion Therapy"
More than 40 years ago, homosexuality was defined as a "disease" in mainstream psychology and well-meaning psychologists debated the best means to "cure" LGBT people, including electric shock therapy, drugs and counseling. That designation ended in 1973, though it took much longer to root "treatment" of gayness out of professional psychology. On Thursday, another milestone was made: Illinois Gov. Bruce Rauner signed a law banning gay conversion therapy for minors.
It's the latest move in a series of steps by top officials in industrialized nations to end pseudo-scientific myths that perpetuate LGBT discrimination. California has a similar law, as does New Jersey and D.C. In April, president Barack Obama called for an end to conversion therapy nationally following the suicide of a gay teenager who was under "treatment." Aside from not working, experts say that gay conversion therapy makes things even worse. How to treat former "patients" itself become and issue of psychology research, such as the paper "Undoing the Damage: Working with LGBT Clients in Post­-Conversion Therapy," published by Jessica Horner in the Columbia Social Work Review.
"These clients may experience both sexual and spiritual identity crises, symptoms of depression and anxiety, hopelessness, sexual dysfunction, and symptoms of post-traumatic stress," Horner wrote.
© 2023 Latin Times. All rights reserved. Do not reproduce without permission.