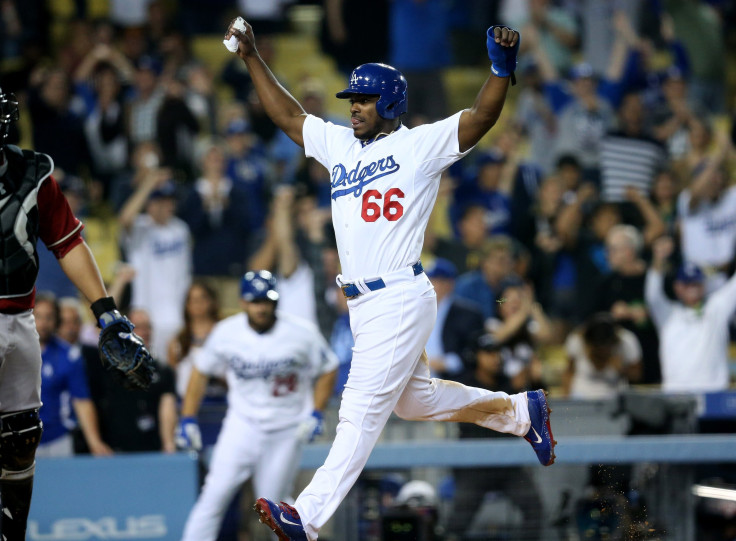 LOS ANGELES – Howie Kendrick played the role of hero for the second straight night, but it was Yasiel Puig who spoke softly (ok, not really), and carried a big broomstick for the Dodgers on Wednesday night.
Puig went 4-for-4 with a double, home run, walk, and scored the game-winning run in the bottom of the ninth as the Los Angeles Dodgers defeated the Arizona Diamondbacks 7-6 to complete the three-game sweep.
It was the third consecutive series sweep of Arizona at Dodger Stadium and the Dodgers seventh consecutive victory over the Snakes overall.
Paul Goldschmidt had a terrific night despite the loss going 4-for-5 falling a triple shy of the cycle like Puig. Goldschmidt is killing Dodgers pitching hitting .417 with three doubles, four long balls, and 10 RBI against the Dodgers this season.
Puig hit a three-run bomb into the bleachers to give the Dodgers a 4-1 lead. Puig did not to do his customary bat flip after the blast, but he did pose and watch his work before trotting around the bases.
The Dodgers would add a fifth run in the third inning thanks to a solo shot by catcher Yasmani Grandal, thinking they could put the game on ice with a 5-1 lead.
"I was looking for the same pitch these guys have been trying to get me out with all week," Grandal said. "It was a fastball in, I've been trying to make an adjustment and look inside. He got behind in the count, looked for, and I was able to get it out."
The Diamondbacks would rally however and hit back-to-back home runs in the top of the fifth inning. Goldschmidt hit his 100th career homer on a two-run blast to opposite field, and Yasmany Tomas finally hit one out on his third attempt of the night, a 396-foot shot to left-center that cut the Dodgers lead to 5-4.
Arizona could have had more runs in the game, if not for the gold glove efforts of the young Joc Pederson. Pederson made yet another stellar defensive play in centerfield. Pederson stole a home run away from Tomas in the top of the third with runners on first and second, and no outs. Tomas hit a 400-foot blast to center, but Pederson leapt over the wall and snagged it out of thin air, before acutely throwing back to first base to try and double up the runner.
"He hit a home run against us in spring training, so I had to respect his power," Pederson said. "That's the first home run I've ever robbed, you have to time your jump perfectly. I've watched some of the greats do this and I just tried to copy them."
Kenley Jansen blew his first save of the season. Jansen (1-0) served up a 90 MPH cut fastball to Diamondbacks center fielder A.J. Pollock who crushed it to left field to tie the game at 6-6. It was the first run allowed by Jansen since September 5, 2014, and ended Jansen's run of 12 consecutive save opportunities.
"He's a tough at-bat," Pollock said of his showdown with Jansen. "Sometimes you overswing against a guy like him because he's a big guy who throws hard. He also throws a cutter, so I think I had a good plan there. I was just fortunate enough to get him over the plate."
Kendrick played the role of hero for the Blew Crew for the second consecutive night. Daniel Hudson (1-2) issued back-to-back walks to Puig and Gonzalez before Kendrick drove in the game-winning run with an RBI bloop single to right field for the Dodgers fifth walk-off win of the year.
"You don't run from those situations," Kendrick said of the game-winning at-bat. "You're either going to have success or you're not. It's a great experience and great opportunity and I want to be the guy to get it done."
© 2023 Latin Times. All rights reserved. Do not reproduce without permission.