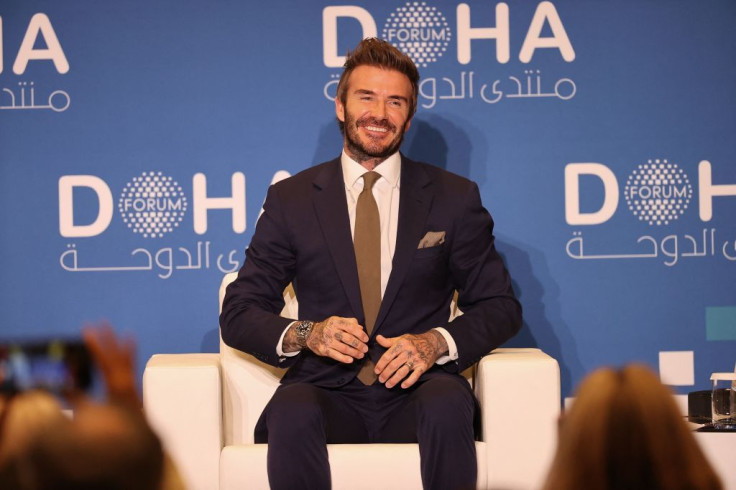 Football star David Beckham cooked up a storm with his daughter Harper, 11, last weekend.
The occasion was special for them as actress Eva Longoria, who is their family friend and Harper's godmother, recently released her debut directorial "Flamin' Hot."
In David's video that was posted on Instagram Saturday, Harper asks, "Daddy, what are you making?"
To which he replies that they were "making burritos, inspired by Flamin' Hot movie by Eva, our friend."
Then the focus is on the prep work. In the video, rice is seen on the stove and the chicken in the fridge. Then Harper joins in and dances and helps her father prepare the salsa.
Fans of the father-daughter duo were impressed by the sweet moment, as per PEOPLE.
One found Harper "adorable!" and another wrote that spending time together is the "most important part in parenthood!"
"Flamin' Hot," starring Annie Gonzales, Tony Shalhoub and Jesse Garcia, is based on the true story of Richard Montañez. He is a janitor who used his Mexican American heritage to become a marketing savant.
Longoria previously said that he is a hero, and that he's "not wearing a cape, but man, is this story powerful."
Meanwhile, in an interview with The Times, the "Desperate Housewives" star got candid about her best friend and David's wife Victoria Beckham.
The 48-year-old said that the two "are peas in a pod," and she wished people knew "how funny and charming and smart Victoria is." According to her, Victoria is the "funniest person." She thinks that the former Spice Girls member is an "introvert, but she's an extrovert with me. We are inseparable."
Longoria met her through her former husband Tony Parker, who had been friends with David.
She said after the Beckhams moved from the UK to Los Angeles, the two couples would hang out. She even shared that David "is an amazing cook."
Longoria shared that as her bond with Victoria got stronger, they would plan meet-ups in Paris or London.
She said that they had sleepovers all the time, mostly at "their farmhouse or in London."
Longoria called Victoria "extremely loyal," and said that there's never a moment she can't call her, that "she's not available, that she's not flying to see me, or I'm flying to see her."
© 2023 Latin Times. All rights reserved. Do not reproduce without permission.