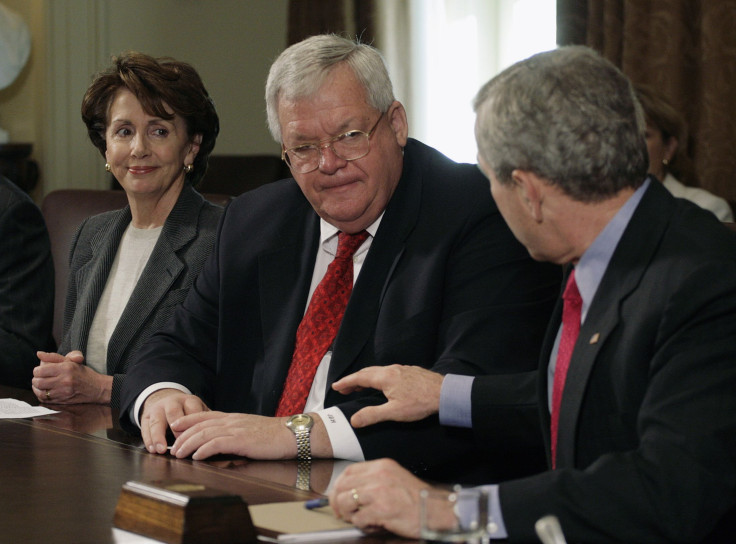 Former Republican Speaker of The House Dennis Hastert was indicted by the Justice Department (DOJ) on Thursday on charges related to bank transactions and an alleged cover-up of improper withdrawals. Federal prosecutors charged former congressman Hastert, 73, with withdrawing $952,000 while intentionally sidestepping bank reporting regulations. The also charged him with lying to the FBI, who he told he was withdrawing money for personal use. He's accused of attempting to cover his tracks with multi-million dollar bribe.
"During the 2010 meetings and subsequent discussions, Hastert agreed to provide Individual A $3.5 million in order to compensate for and conceal his prior misconduct against Individual A," the indictment reads.
The DOJ did not release the name or title of "Individual A," but implies that the person is a male Illinois resident who has known Hastert for many years. It's unclear why Hastert was dodging banking requirement in the first place. If it was to cover up other misconduct, this initial indictment could be the tip of the legal iceberg.
As leader of Congress, Hastert pushed President George W. Bush to pass tax cuts and expand medicare. On K Street, Hastert served as Senior Adviser to Dickstein Shapiro. In op-ed published by Politico in 2014, Hastert urged the Republican congressional majority to pass a version of comprehensive immigration reform that included a pathway to citizenship.
"First, securing our borders so we know who is entering our country and for what purpose. Second, a legalization of those folks who are already here, many of whom have been here for a decade or more. In addition, we should provide them with a path to citizenship much like any other immigrant would have. Those two things being satisfied, I believe immigration reform can move forward," he wrote.
If convicted, Hastert could face 5 years in prison and up to a $250,000 fine for each count.
© 2023 Latin Times. All rights reserved. Do not reproduce without permission.